Enjoying the company of family and friends in your home doesn't always necessitate a special occassion and tons of work. Here is the perfect dish to enjoy with coffee, tea or serve with some salsa and sour cream. Chicken and cheese are flavored with tomatoes, herbs and buttermilk dressing and encased in a crunchy tortilla. You can do all the prep work ahead of time and simply brown them in the skillet once your guests have arrived. This is also a great option for a quick and delicious weeknight dinner. I make this quite often and especially when we have a houseful of teenagers.
Yields: 5 quesadillas 
Ingredients:
5 cups cooked chicken, chopped
1/2 cup parmesan cheese, grated
5 Tablespoons sun-dried tomatoes, minced (or 1-2 small tomatoes, seeded and chopped)
1 small red bell pepper, minced, optional
1 small garlic clove, minced
2-3 Tablespoons fresh parsley, minced
3/4  cup mayonnaise
1  1/4 cup buttermilk
salt, pepper
2 1/2 mozzarella cheese, grated
10 medium flour tortillas
butter, for cooking the quesadillas
Chop the cooked chicken. You can use a rotisserie chicken, smoked chicken, roasted or cooked chicken. I usually use leftover roast chicken or cooked chicken after making chicken broth.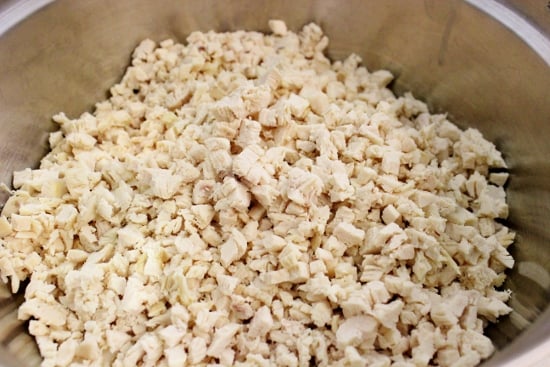 Combine the chicken, parmesan cheese, sun-dried tomatoes, pepper, garlic, and parsley in a large bowl.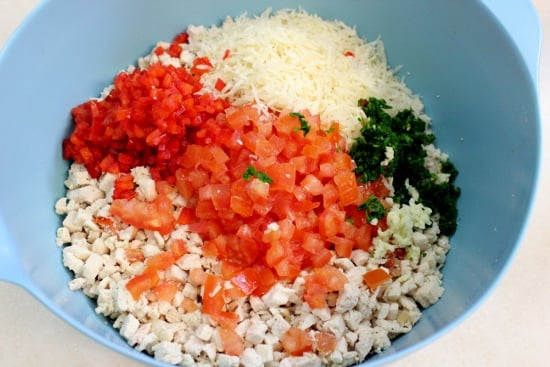 Whisk the mayonnaise and buttermilk together, add to the chicken.
Season with salt and pepper. 
Spread about 1/2 a cup of the filling on one of the tortillas.
Sprinkle about 1/2 cup of the mozzarella cheese on top of the filling.
Top with another tortilla. Melt 1/2 Tablespoon of butter in a nonstick skillet over medium heat. 
When the butter stops sizzling, add the tortillas.
Cook, covered, over medium low heat until golden brown on both sides.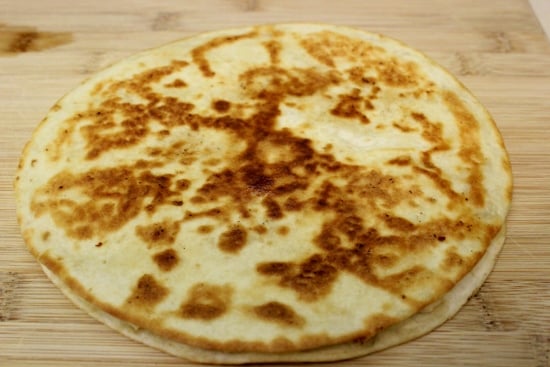 You can serve the quesadillas with salsa, sour cream, Ranch dressing, etc.