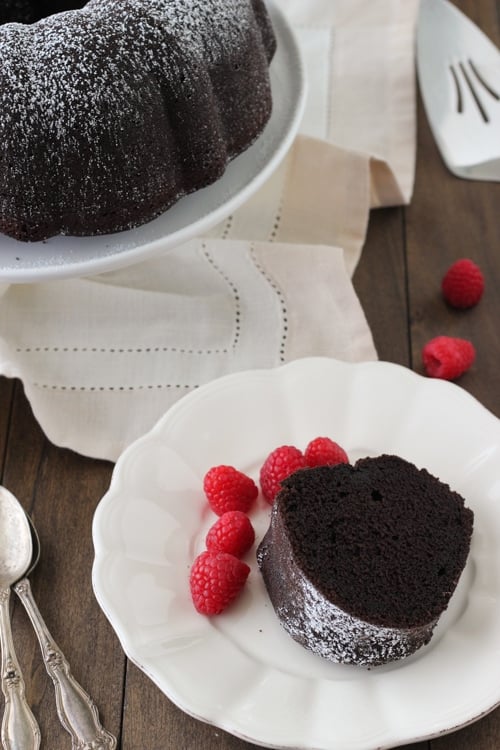 How many of you like to eat homemade desserts, but don't like to spend too much time on the preparations? I'll raise both hands.
The creator of the bundt cake and I would probably be kindred spirits. What a brilliant concept for a fancy presentation with minimal effort.
I make all kinds of bundt cakes: orange, lemon poppy seed, coffee cake, glazed and marbled. This is a Chocolate Sour Cream Bundt Cake, from a recipe that I got from America's Test Kitchen. I think that any time you add sour cream or buttermilk to batters it makes it 100 times better. This chocolate cake really rocks, and I am not a chocolaholic by any stretch of the imagination. I crave chocolate cake only a few times a year, and this one is the one of the few recipes that I will make. The chocolate cake is delicious all by itself; it's so chocolaty, deep, rich and tender. I make this bundt cake a lot of times before work, when I don't have a lot of time to fuss, but want to have something sweet in my lunchbox. Let me tell you, a slice of this Chocolate Cake with a cup of coffee really hits the spot sometime around 2 in the morning. It's also something for me to look forward to in the beginning of my shift, when it's usually really busy.
You can elevate this cake a notch by serving it with a scoop of ice cream or whipped cream and some fresh berries. That would be worthy of a special occasion. …