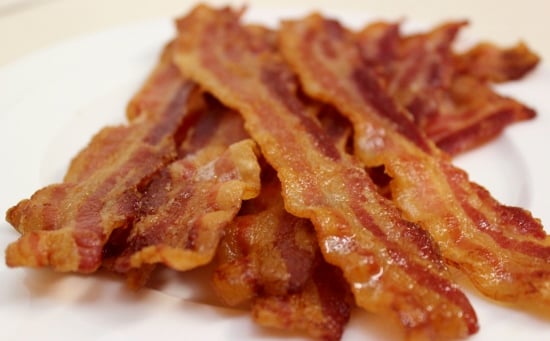 How do you store your bacon?
My husband and I have discovered a great way of storing bacon in a way that it will always be accessible to you, whether you need a whole package or just one strip. It's also much easier to handle. Freezing it! If you freeze the whole package, it will be one solid mass and you won't be able to do anything with it, but here's the beauty of this idea.
Put EACH strip of bacon in between plastic wrap or parchment paper. It's very simple and takes only a few minutes to do a whole package.
Put a strip of bacon on top of the plastic, fold it over all the way around the bacon and place another strip of bacon on the plastic wrap again.
Keep wrapping until you have the whole package in a neat little bundle. Or four:).
Wrap it in several layers of plastic wrap, aluminum foil or a ziptop bag and freeze. (To prevent freezer burn).
Next time you need bacon, take out just as much as you need and return the rest to the freezer.
Cooking Bacon:
If I am making bacon in strips, I always bake it in the oven.
Line a rimmed baking sheet with aluminum foil, arrange the bacon in a single layer on the sheet and bake at 400 degrees until crisp and golden brown. There is no need to thaw the bacon or to preheat the oven.
Besides turning out perfectly every time, no splattering grease to deal with or standing next to the stove, you won't have any dishes to wash either. The aluminum foil is sturdy enough to hold in the bacon grease and won't leak through.
You can crumble the bacon if you want bacon bits, or simply chop the raw bacon strips, (they chop beautifully when frozen) and then cook in a skillet on medium heat, stirring frequently until golden brown also.