Macaroni Shrimp Salad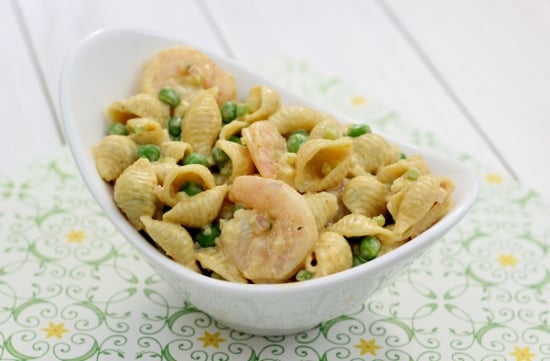 1 package (16 ounces) small shells macaroni
1 to 1-1/2 pounds shrimp
1 bay leaf, 3-5 peppercorns (optional, to cook the shrimp)
¼ cup white wine (optional, for cooking the shrimp)
1 package (16 ounces) frozen peas, thawed
6 celery ribs, minced
1 small shallot, minced
1 cup mayonnaise
¾ cup French salad dressing
1 Tablespoon sugar
1½ Tablespoon white wine vinegar
1-1/2 teaspoons paprika
1 teaspoons salt
1 teaspoons garlic powder
1 teaspoons pepper
Cook the pasta according to package instructions, drain and cool.
Cook the shrimp. As long as you're cooking it, you might as well toss in some ingredients to infuse the shrimp with flavor. I add a few peppercorns, a bay leaf or two, salt and a splash of white wine. You don't have to do this; but I think it's worth the effort. It only takes 3 seconds to do anyway. Don't overcook the shrimp - as soon as the shrimp turns pink, it's done. Drain, and place in an ice bath to stop the cooking.
Combine the ingredients for the dressing together in a small bowl. Mix to combine. Set aside.
Mince the celery and the shallot.
Thaw the frozen peas. I usually pour some cold water over the peas. They will be defrosted in a matter of minutes. Drain.
Combine all the ingredients for the salad, except the dressing.
Add the dressing and toss to combine. Add a portion of the dressing to the salad at a time, you may not need all of it.
Refrigerate before serving.