Cooking For Guests This Summer?
During the summer months, vacations, visiting family and friends, and opening our homes to travelers is at an all time high. I guess everyone is trying to make the most of summer vacation and the warm and sunny months of the year. This means  that a lot of us are cooking for guests. In fact, in a few weeks my sister, Elina, will be coming to Florida with her husband and their two little girls. I am so excited to see them and can't wait til they finally arrive.
However, when vacationers enter our home, we are unfortunately not on a vacation ourselves, and still have to go to work and perform the daily chores and errands. Since I want to spend as much time with my guests as possible instead of standing next to the stove when I'm not at work, I have figured out some rules of thumb for these situations.
I have two goals when it comes to feeding company.
#1 I want my guest to be pampered and indulge in some tasty munchies. 
Admit it, food ranks pretty high on the list of importance when you're on vacation. You always remember if the food was great or not so much.
#2 Spend as little time in the kitchen as possible.
Is this even achievable?
I've had several people ask me for some ideas of what to serve visitors.
"My family is expecting  a lot of guests this summer and I will be doing all of the cooking. I am planning to serve these pancakes for one of the breakfasts and your goulash for one of the dinners. Olya, may I ask you which recipes would you recommend for me try and serve the guests?" Tanya
If it's in any way possible, do as much work ahead of time as you can. Trust me, it is SO worth it.
Focus on the dishes that will not lose their quality or texture if prepped ahead of time, and in the reheating process.
Here are some ideas of meals that you can make ahead of time, or do a significan amount of prep for:
Honey Garlic-Glazed Meatballs.
They are wonderful. Cook them, freeze. Unthaw them in the refrigerator the night before. The next day, all you have to make is the sauce. 5 minutes of work. It really doesn't get better than this. By the way, every time I serve them, I get rave reviews. I don't think there's been a time when someone didn't ask for the recipe.You can also use these same meatballs and serve them with tomato sauce (which you can make ahead of time too, or use store-bought), or make them into Swedish meatballs.
You can also bake and freeze these, but I prefer to prep them, cover and store in the refrigerator until I'm ready to cook them. The topping is so golden and crisp this way. It takes about 30 minutes to prep them, or an hour at the most if you're just taking your sweet time, listening to music, etc.
Cabbage Rolls, Lazy Cabbage Rollsor Stuffed Mini Peppers:
Cook and store in the refrigerator or freeze. They taste even better the second day.
Elegant Chicken and Rice Dinner:
Talk about impressive. This chicken is so delicious, juicy and crispy. Do all the prep work, refrigerate for up to a day, and then cook. You can also freeze the prepped chicken, unthaw in the refrigerator and then bake. Make sure to keep the baking dish at room temp for at least 20 minutes if you're using a glass casserole dish.
Chop and mix all the ingredients. Refrigerate or freeze. All you have left to do is to cook them.
You can do the same thing with Chicken Kotleti.
Chicken Kebabs With Mushroom Veloute Sauce. Brown the kebabs, make the sauce and refrigerate. Bake for dinner. You may need to add a little liquid to the sauce.
This is a great option because it cooks really quickly, so you can prep all the ingredients, refrigerate and you'll have dinner in 30 minutes. You can also freeze this meal with great results. Almost any pasta dish freezes really well. Ziti, Stuffed Shells, Manicotti, Lasagna. Make sure to undercook the pasta a bit and add a little more sauce/liquid than you need. Unthaw and reheat in  a skillet or oven.
Beef Stroganoff or Beef Goulash.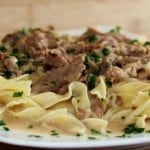 Cook, refrigerate and reheat. You may need to add a little broth/water.
Mom's Braised Potatoes With Pork.
Cook, refrigerate and reheat. I love reheating it with a little butter in a nonstick skillet and adding some shredded cheese.
Pelmeni, Vareniki, Pierogi, Ravioli.
I don't think it can get any easier than this. Boil the water, cook for about 5 minutes, serve.
Cod With Zucchini and Tomatoes, Broiled Salmon.
Prep, refrigerate. Cook.

Broiled Salmon is definitely on the list of the meals I make most often. Elegant, healthy, delicious and probably the easiest to make too.
Appetizers/Salads/Sides:
Make ahead of time. Refrigerate for up to 2 days in advance.
Chicken Quesadillas.

Make the filling and spread between two tortillas. Refrigerate. Brown on both sides in a skillet to serve.
Turkey Pinwheels With Roasted Veggie Spread.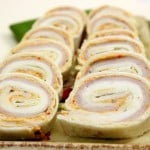 Make a large batch. I never have any leftovers:).
Pasta Salad, Crunchy Cabbage Cucumber Salad, Russian Salad "Olivie", Crab Salad.
Prep ahead of time. Store the dressing separately. Dress right before serving.
Rice.

It's so fast to make, I usually make it right before serving. However, it stores really well too. Refrigearte or even freeze and then simply reheat.
This side dish probably wins the award for being the fastest to make. Prep veggies ahead of time. Refrigerate. 5-7 minutes of cooking and it's on the table.
Prep, refrigerate and then bake.
It's our tradition to grill at least once when we have guests staying for a few days. It's so bonding to grin at each other as we chew on our juicy kebabs and spread butter  on our baked potatoes with blacked fingers.Why not take dinner outside? Kebabs, steaks, chicken, pork can be marinated the night before, or even days before. Cleanup is a breeze too. Grilled Shrimp cooks in less than five minutes and brings you the taste of the tropics, which is perfect for summer. It's perfect paired with
Tomato and Roasted Corn Salad
.
Breakfast:
If you don't do anything else on this list, make these pancakes for your guests. It's easy, quick and a morning with homemade pancakes is perfect.
Cheesy Egg Puffs.

I like making these because you can make a large batch in a short amount of time. They are fluffy, hearty and look cute and fancy.
 Desserts
Almost all desserts can be made ahead of time. Cakes, Cake Rolls, Cupcakes, Bars, Cookies.
You can even freeze cookie dough in balls, and then bake as many as needed. What an awesome shortcut!
Here are my favorite desserts to serve to guests:
This cake is on the list because of its flavor. It's THAT good.
Cranberry-Raspberry Cake Roll.
The cake roll literally bakes in 5 minutes.
Tropical Fruit Salad.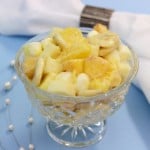 Cut all the fruit except the apples and bananas. Make the pastry cream, refrigerate. When serving, whip up the heavy cream, fold into the pastry cream and mix all the fruit, adding apples and bananas last.
Strawberries and Cream Mousse.
Perfect for a hot summer day. Refreshing, creamy and cold.
This is probably the one I make the most and the most requested recipe as well. Isn't it awesome that it's so easy?
Apple Upside Down Cake.

This is one that is so quick to make I whip it up right before dinner, put it in the oven and as we're coming to the end of the meal, the incredible aroma of baked apples has everyone eyeing the oven expectantly. Oh wow. There is nothing better than a warm slice fo this cake with a cold glass of milk.
Cheese Blintzes With Cherry Sauce.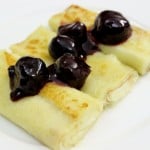 Make the blintzes and the sauce ahead of time. Refrigerate and brown the blintzes in a skillet to serve and reheat sauce.
Both children and adults will be thrilled when you set a plate of these cookies in front of them.
Make the dough anf filling ahead of time. You can either refrigerate the dough or even freeze it. Pull it out to unthaw and quickly get a batch in the oven.
Whew! What a long post! I hope you can use it as a reference guide to come up with ideas of what will work for your family.
Who else is expectecting visitors this summer? What are your favorite meals to serve guests?
Let's sit back, enjoy our visitors and make them feel at home, as stress free as possible.