Scalloped potatoes are absolutely divine. This recipe is not for calorie counters, because there are plenty to count in this dish. Which is why I don't bother counting. Once in a while, it's permissible to savor every bite of something that tastes this delicious.
Most scalloped potato recipe bake the potatoes in a bechamel sauce, a white sauce made with butter, flour and dairy. However, this usually results in a gloppy, mushy potatoes. This recipe simply cooks the potatoes in cream and milk, which is why the potatoes have a velvety, light texture. Since potatoes are starchy, they provide a perfect thickness to the cream. Another awesome technique for these potatoes is precooking them in the cream before baking in the oven, which drastically reduces the amount of baking time. Topped with a crunchy sprinkling of crushed potato chips and melted cheese, it's a perfect texture contrast. Not to mention how pretty it is. It couldn't be easier than this.  
Most of the time when I find a recipe, I usually adjust the recipes to my taste, but when I use America's Test Kitchen (Cook's Illustrated), I rarely have to do any adjusting. They are my most trusted source when it comes to the kitchen. This is another example of a great recipe which I very slightly adjusted.
Yields: 9×13 inch casserole
Ingredients:
2 Tablespoons butter
1 onion, minced
2-3 garlic cloves, minced
3 cups heavy cream
1 cup milk
4 lbs russett potatoes
salt, pepper
1 dry bay leaf
1 cup cheese (Mozzarella, Cheddar, Parmesan, Provolone, etc)
1 cup potato chips, crushed
Preheat the oven to 350 degrees.
Peel and slice the potatoes into 1/8 inch circles. If you have a mandoline or a slicing option on your food processor, now is the time to use it. 
Melt the butter over medium heat in a large pot. Add the onions and cook until tender and slightly golden. 
Add the garlic and cook for about 30 seconds. Add the cream, milk, bay leaf and potatoes. 
Season with 2-2 1/2 teaspoons salt, 1/2 teaspoon pepper. You can also add fresh thyme. I recommend McCormick's Montreal Chicken seasoning. Bring to a boil, cover, and cook on medium-low until the potatoes are just cooked through, 10-15 minutes. 
Discard the bay leaf. Pour into a 13×9 inch baking dish. Top with crushed potato chips and shredded cheese. 
Bake for 15-25 minutes, until bubbly and cheese is melted and golden. When the potatoes are cooked through, broil the dish for 2-5 minutes, to crisp up the cheese.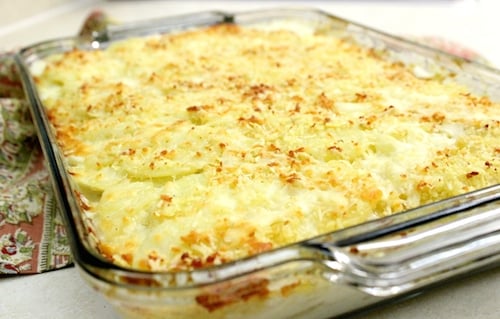 You can make this dish ahead of time and store in the refrigerator until you're ready to bake it. Allow it to come to room temperature, at least 15-20 minutes, before putting in the oven. How perferct is this to serve for company or on a busy day?
Related posts: