Russians like baking with poppy seeds.  Cookies, pastries, cakes, yeast breads, we make it all. You can buy poppy seed filling in the store, but many times it tastes stale and hard. I decided to try my hand at making homemade filling. There was a recipe for poppy seed filling on allrecipes.com and it turned out very well. It's so simple to make and delicious too. Use this for pastries, yeast breads, etc. You do need a coffee grinder for this recipe. Trust me, I tried it in the food processor, blender, mashing it by hand, grinding it with my teeth (just kidding). It just doesn't work. The seeds are too tiny for anything besides a coffee grinder. Good thing they aren't expensive.
Yields: about 2 cups of filling
Ingredients:
8 oz. poppy seeds (about 1 1/2 cups)
1 cup whole milk
1/2 stick butter
3/4 – 1 cup sugar
1 pinch of salt
2 eggs, beaten
Use a coffee grinder to process the poppy seeds. 
You will need to do this in several batches. Meanwhile heat the milk, butter, salt and sugar on medium heat until the sugar dissolves and the milk is frothy. 
Slowly pour in a small amount of the hot milk into the eggs, whisking vigorously with the other hand. This is called tempering, which prevents the eggs from scrambling. Since I don't have 3 hands and my husband wasn't home, I only have a picture of the tempered eggs. 
When you've added about half of the milk to the eggs, pour the tempered mixture back into the saucepan and cook on medium-low heat until the mixture thickens, just like making pudding. 
Add the poppy seeds. Cool.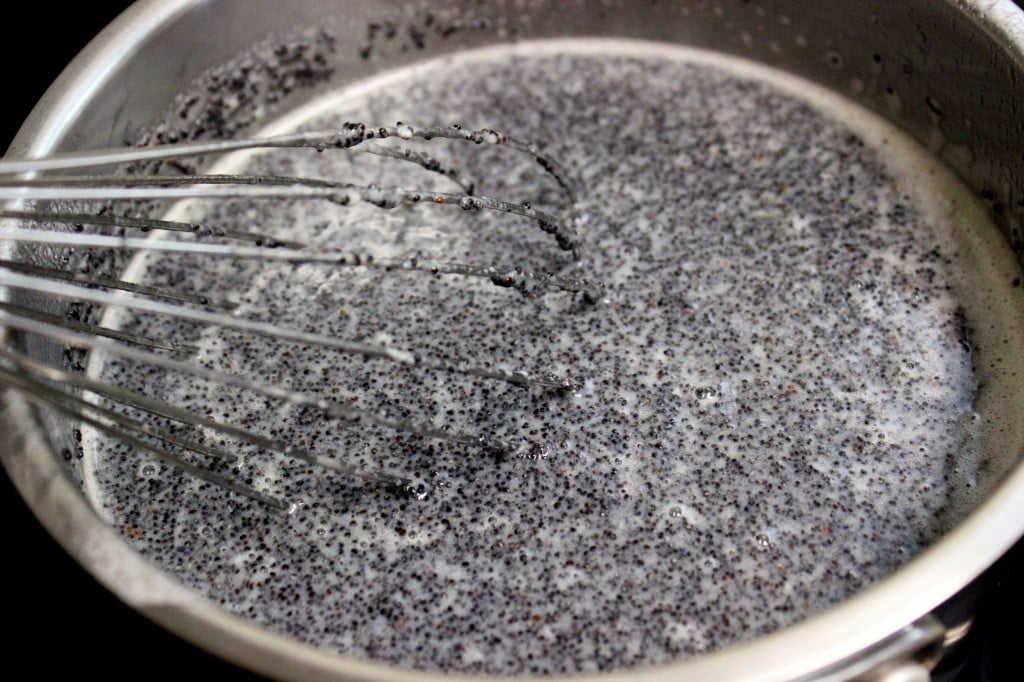 The filling will thicken up as it cools. Store the filling in the refrigerator.
Here's a link to my favorite recipe to use this poppy seed filling in, Poppy Seed Rugelachs.
Related posts: