Thin and Delicate Omelet, a Video Recipe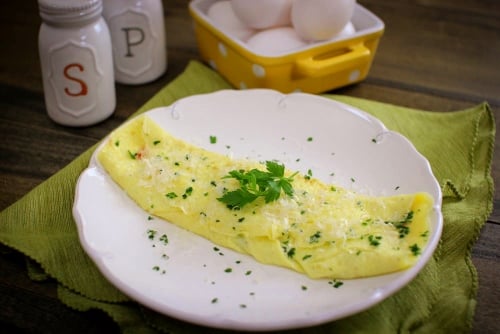 Author:
Olga's Flavor Factory
3 eggs
2 Tablespoons half n half
salt, pepper
2 slices of ham, chopped finely (about 2-4 Tablespoons)
½ tomato, finely minced
2-4 Tablespoons Parmesan cheese, finely shredded
2-4 Tablespoons Mozzarella cheese, finely shredded
fresh herbs (chives, parsley)
Prep all the filling ingredients - chop the ham, tomatoes and herbs, grate the cheese. Whisk the eggs and half n half. Season with salt and pepper.
Heat ½ Tablespoon of butter in a 10 inch nonstick skillet on medium high heat, until the butter stops foaming.
Pour in half of the egg mixture into the skillet. You should hear it sizzle gently.
Swirl the eggs around the pan. As the eggs set on the bottom, gently push them towards the center of the pan and swirl the pan so the liquid eggs will flow to the sides. Keep pushing the set eggs toward the center and twirling the pan, until most of the liquid eggs are dispersed evenly over the surface of the omelet. This is a very quick process and shouldn't take long at all.
When the bottom of the omelet sets but the top is still runny, add half the filling ingredients to the center of the omelet.
Using a small, thin spatula, fold the first side over the middle of the omelet. Fold the other side over the middle also, to make a beautifully neat omelet. There are many, many ways of folding an omelet, but this is one of the simplest that anyone can master.
Repeat with the remaining ingredients to make another omelet.
Garnish with herbs and cheese. Serve immediately.
Recipe by
Olga's Flavor Factory
at https://www.olgasflavorfactory.com/recipes/breakfast/thin-and-delicate-omelet-a-video-recipe/