Italian Stuffed Peppers in the Slow Cooker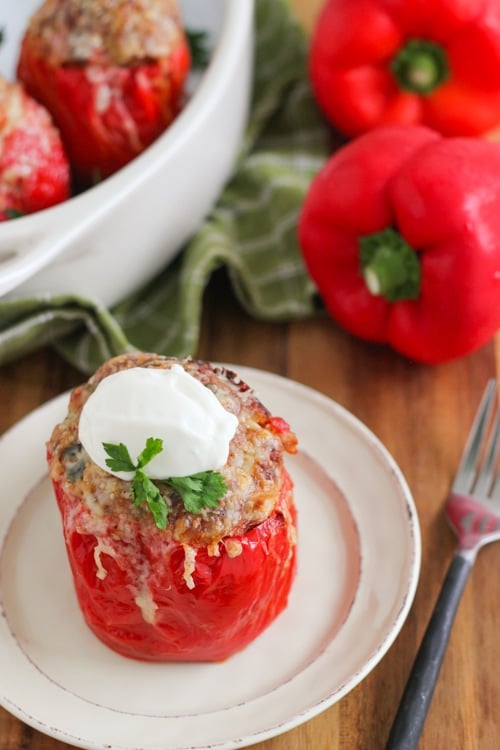 Author:
Olga's Flavor Factory
4 large bell peppers (red, yellow or orange)
1 lb Italian sausage, I prefer mild
¾ cup cooked rice
1 large onion, chopped
¼ - ½ teaspoon crushed red peppers
3 garlic cloves, minced
1 Tablespoon tomato paste
1 slice bread
¼ cup milk
1 small zucchini, chopped
¾ cup gouda, provolone or Monterey Jack cheese, shredded, plus more for garnishing
¼ cup Parmesan cheese, shredded, plus more for garnishing
salt, pepper
fresh parsley, chopped, for garnishing
Serve with Marinara Sauce, optional
Sour cream, to serve on the side, optional
Cut the tops off the peppers, take the seeds out and chop the tops .
In a skillet, heat 1 Tablespoon of olive oil on medium heat. Add the chopped onion and crushed red peppers, season with salt. Cook for about 5 minutes, until the onions have softened.
Add the garlic, tomato paste and the chopped pepper tops. Season with more salt. Cook for another 3 minutes or so. Cool slightly.
Pour the milk over the slice of bread and mash it finely with a fork.
Add the rice, bread and milk mixture, cooled onion mixture, chopped zucchini, cheese and 1 teaspoon of salt and ½ teaspoon of pepper. Mix to combine.
Fill the peppers with the meat mixture. Place the peppers into the slow cooker. Pour about ⅓ cup of water into the bottom of the slow cooker.
Cook on low heat for 4-6 hours.
There will be a lot of excess liquid in the slow cooker. Just drain it off and discard.
You can sprinkle more cheese on the tops of the peppers and broil them in the oven for a few minutes, until the cheese has melted and is golden.
Garnish with shredded cheese and freshly minced herbs. I like to serve these peppers with a simple, homemade Marinara Sauce. You can also serve the peppers with a dollop of sour cream.
Recipe by
Olga's Flavor Factory
at https://www.olgasflavorfactory.com/recipes/main-course/italian-stuffed-peppers-in-the-slow-cooker/