Grilled Beef and Vegetable Kebabs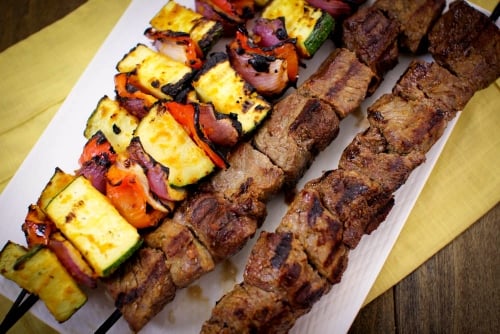 Author:
Olga's Flavor Factory
Marinade:
1 onion, chopped
6 garlic cloves, chopped
lemon zest from one lemon
2 Tablespoons fresh rosemary or thyme, chopped
⅓ cup beef or chicken broth
⅓ cup vegetable or canola oil
3 Tablespoons tomato paste
2 teaspoons table salt
1½ teaspoons sugar
¾ teaspoon ground black pepper
Kebabs:
2 lbs sirloin steak tips, cut into 1½ - 2 inch cubes
1 zucchini, about ½ - ¾ lb
1 large red bell pepper
1 large red onion
Start by making the marinade. Pulse all the ingredients in a food processor until pureed.
Cut the beef into 1½ - 2 inch cubes.
Cut the zucchini in half and cut each half into approximately 1 inch pieces.
Take the seeds out of the bell pepper and cut it into 1½ inch pieces.
Cut the onion into 1½ inch pieces also.
Toss the vegetables with ¾ cup of marinade and set aside.
Toss the remaining marinade with the beef and refrigerate for at least 1 hour.
I've marinaded the beef overnight and it turned out great too. However, I wouldn't recommend marinating the vegetables too long in advance, not longer than 2 hours. If you want, you can marinate the beef ahead of time, set aside the marinade for the vegetables and toss it together an hour before grilling.
When you're ready to grill, wipe off excess marinade from the beef kebabs with paper towels. Thread the beef onto skewers, I usually get 2, sometimes 3 skewers (approximately 12 inch skewers, each).
Thread the vegetables onto 2-3 more skewers.
Preheat the grill on high heat for about 15 minutes. Place the Beef and Vegetable Kebabs onto the grill, reducing the heat on the Vegetable Kebabs just slightly to medium high.
Grill the Beef Kebabs for 12-16 minutes, rotating every 3 minutes or so, until the meat is seared on all sides. Take the Beef Kebabs off the grill. Cover them with aluminum foil to stay warm and allow them to rest while you finish grilling the vegetables. This will also help the meat to rest and the juices to redistribute, giving you juicy meat, not rubbery and dry.
Grill the vegetables for another 5 minutes, rotating the vegetables so that they are seared on all sides also.
Recipe by
Olga's Flavor Factory
at https://www.olgasflavorfactory.com/recipes/main-course/grilled-beef-and-vegetable-kebabs/