Tomato, Pepper and Herb Baked Eggs With Gruyere Cheese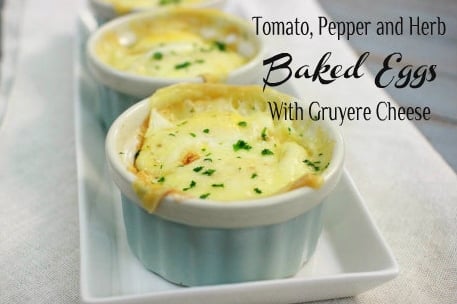 Author:
Olga's Flavor Factory
1 teaspoon oil
1 small shallot, minced
1 small garlic clove, minced
2 large tomatoes, peeled, seeded and coarsely chopped
¼ cup roasted red peppers, chopped
salt, pepper
½ Tablespoon fresh parsley, minced
⅓ - ¼ cup Canadian bacon, chopped (or ham, turkey, any other deli or sauteed mushrooms)
1 Tablespoon softened butter, to grease the ramekins
8 eggs
4 slices Gruyere cheese, (or Mozzarella, Provolone, Swiss, etc)
Preheat the oven to 400 degrees Fahrenheit.
In a small saucepan or skillet, heat up 1 teaspoon of oil. Add the shallot and garlic, season with salt and saute until tender and slightly golden, about 2 minutes.
Add the chopped tomatoes and cook of another 3-5 minutes, seasoning the tomatoes with salt and pepper also.
Add the chopped roasted red pepper. You can also use a regular bell pepper, in which case, start cooking it with the shallot and garlic, so that the pepper has a chance to cook through.
Add the parsley to the tomatoes and peppers.
Grease 4 ramekins with softened or melted butter.
Divide the tomato mixture among the four ramekins.
Sprinkle in the chopped Canadian bacon on top of the tomatoes. You can use any deli that you like - ham, turkey, or even some sauteed mushrooms.
Crack in 2 eggs into each ramekin. Season with salt and pepper.
Place a slice of cheese on top of each ramekin. You can also use any kind of cheese that you like as long as it melts well, such as Mozzarella, Provolone, Swiss, etc.
Place the ramekins on top of a rimmed baking sheet and place it in the preheated oven. Bake for about 10-15 minutes, depending on how well you like your egg yolks to be cooked. Take them out sooner than you think, since the eggs will continue to cook after you take them out of the oven.
Recipe by
Olga's Flavor Factory
at https://www.olgasflavorfactory.com/recipes/breakfast/tomato-pepper-and-herb-baked-eggs-with-gruyere-cheese/