Penne With Creamy Tomato Vodka Sauce and Seared Shrimp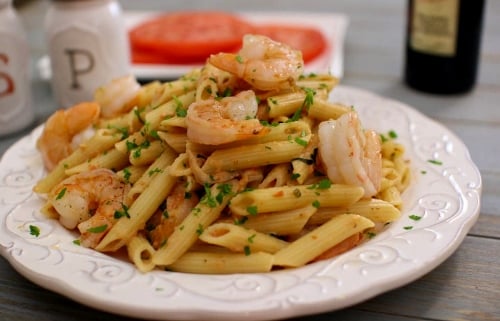 Author:
Olga's Flavor Factory
1 lb penne pasta
2 lbs large raw shrimp, deveined and shells removed
2-3 Tablespoons oil
2-3 shallots, thinly sliced
2-3 garlic cloves, minced
1 (28 oz) can diced tomatoes, pureed
¼ cup vodka, or chicken broth
⅓ cup heavy cream
2 Tablespoons each, fresh basil, parsley, minced
salt, pepper
Bring a large pot of salted water to a boil and then cook the pasta the way you like it.
In the time that it takes you to cook the pasta, you should have the sauce and shrimp ready too, so have your ingredients prepped and ready to hit the skillet.
Heat the oil in a skillet until it's really hot and quickly place the shrimp in one layer into the skillet. You will need to cook the shrimp in 2 batches. Season the shrimp with salt and pepper. The most important thing is to make sure you don't overcook the shrimp. By the time I placed the last shrimp into the skillet, it was time to start flipping the first shrimp. The shrimp will easily release from the skillet when they are ready. Cook for another minute on the other side and set the shrimp aside in a covered bowl.
Repeat with the rest of the shrimp.
In the same skillet, add a little more oil, reduce the heat to medium and add the shallots and garlic. Season with salt and pepper. Cook until the shallots are tender.
Pour in the vodka and it will deglaze your pan. All those lovely brown bits will release from the bottom of the skillet and create and rich and flavorful sauce. If you don't want to cook with alcohol, just substitute the same amount of chicken broth for the vodka.
Cook for about 2 minutes and then add the pureed diced tomatoes. (I usually pulse the tomatoes in my food processor.)
Season with salt and pepper, cook for 5-7 minutes.
Pour in the heavy cream, and mix to combine. Add the sauce, herbs and shrimp to the cooked pasta, mix to combine and serve.
Recipe by
Olga's Flavor Factory
at https://www.olgasflavorfactory.com/recipes/main-course/penne-with-creamy-tomato-vodka-sauce-and-seared-shrimp/