Pear and Cheese Coffeecake (Zapekanka)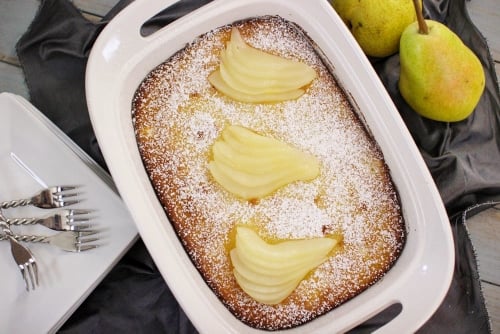 Author:
Olga's Flavor Factory
1 stick of butter (8 Tablespoons), softened
¾ cup sugar
2 teaspoon vanilla
3 eggs, separated, room temperature
1 teaspoon baking soda, dissolved in 1 teaspoon white vinegar
2 cups farmer's cheese (15-16 oz)
¾ cup semolina (Cream of Wheat, Farina, манная крупа)
3-4 pears, peeled, seeded and sliced thinly
¼ cup water
sugar, to taste
½ Tablespoon lemon juice
1 Tablespoon vanilla
Preheat the oven to 325 degrees Fahrenheit. Butter a 2.5 quart baking dish.
Cream the softened butter and sugar in a standing mixer using the paddle attachment or a large bowl and a hand mixer, until light and fluffy.
Add the egg yolks and vanilla. Mix until incorporated.
Add the baking soda that has been dissolved in the vinegar to the batter and mix to combine.
Add the semolina to the mixture and mix to combine.
Add the farmer's cheese and also mix to combine. (You can also use cottage cheese or ricotta cheese instead of the farmer's cheese, just make sure to drain it well first. Place the cheese in a cheesecloth (or coffee filter) lined strainer/colander and place some kind of weight on top of the cheese. Allow it to stand for a few hours until the cheese is very dry.
In another bowl, using the whisk attachment, whip the egg whites with a little bit of sugar (a Tablespoon or so) until soft peaks form. Gently fold the egg whites into the batter with a rubber spatula.
Peel and seed the pears. Thinly slice the pears.
Place a layer of overlapping pear slices on the bottom of the prepared baking dish. You will use 1½ -2 pears for this, depending on the size of the pears.
Spread the batter evenly over the pears.
Bake in the preheated oven for 40-50 minutes, until the cake is golden brown and doesn't jiggle in the center.
While the cake is baking, place the remaining pears slices into a small saucepan or skillet with the water (just enough to cover the bottom of the pan) the sugar, vanilla and lemon juice. Bring to a boil, reduce the heat to a simmer and cook for 3-5 minutes, just until the pears soften. The sugar and vanilla will infuse the pears with great flavor and the lemon juice will prevent the pears from browning, as well as bring a bright note to the pears.
Scoop out the pears slices carefully from the water and drain on a paper towel.
When the cake is baked and has cooled for about 15 minutes, sprinkle it with powdered sugar and serve with the rest of the cooked pears.
Recipe by
Olga's Flavor Factory
at https://www.olgasflavorfactory.com/recipes/breakfast/pear-and-cheese-coffeecake-zapekanka/