Stuffed Red Snapper With Veracruz Sauce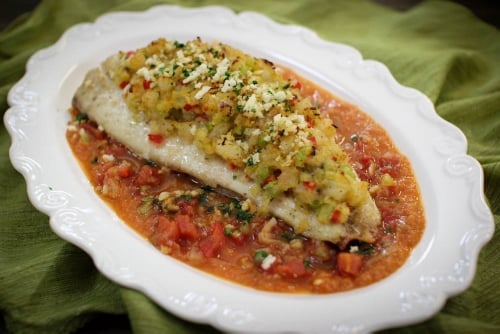 Author:
Olga's Flavor Factory
4 large red snapper fillets
1½ Tablespoons oil
salt, pepper
¾ - 1 lb raw shrimp, shelled, deveined and coarsely chopped
2 Tablespoons butter
1 leek, sliced
2 celery stalks, chopped
½ red bell pepper, chopped
2 garlic cloves, minced
1 Tablespoon capers, minced
½ cup white wine
½ Tablespoon parsley, minced
panko bread crumbs
salt, pepper
½ - 1 Tablespoon oil
1 onion, chopped
1 leek, sliced
1 celery stalk
1 garlic clove
½ red bell pepper
1 jalapeno or pablano pepper, minced
2 small cans (14.5 oz each) diced tomatoes
2 Tablespoons capers
1 Tablespoon fresh parsley, minced
Preheat the oven to 500 degrees and place a rimmed baking sheet in the oven so it becomes hot as well.
Make 3 diagonal slashes in the skin of the fish. (This will prevent them from curling up when roasting in the oven.) Season the fish fillets with salt and pepper and rub them on both sides with oil.
Melt the butter in a skillet on medium - high heat. Add the leeks, celery, bell pepper and garlic. Season with salt and pepper. Cook for about 8 minutes, until all the vegetables have softened.
Add the shrimp and the capers. Cook until the shrimp has cooked through; you'll know it's cooked when it becomes pink.
Pour in the white wine and cook for about 3-5 minutes.
Add ⅓ cup panko bread crumbs and mix to combine.
When the oven has preheated for about 10 minutes, take out the baking sheet (Don't forget that it's HOT) and place the fish fillets skin side down on the hot baking sheet. You will hear it sizzle right away.
Place the fish in the oven and decrease the temperature to 350 degrees. Roast in the oven for about 5-7 minutes.
Take the fish out of the oven and mound the stuffing on top of the fish. Roast for another 10 -12 minutes.
Meanwhile, toast the remaining breadcrumbs in a dry skillet on medium heat, until they are golden and set aside.
In the same skillet that you used to make the stuffing, heat up the oil until it's shimmering. Add the onion, leek, celery, garlic and peppers. Season with salt and pepper. Cook for about 7 minutes, until all the vegetables have softened.
Add the tomatoes and capers to the skillet. Bring to a boil and cook for 3-5 more minutes. Season with salt and pepper.
Place approximately half of the sauce in a blender and puree. Mix with the remaining sauce. This will create a "saucy" texture" but still have a great, rustic chunkiness. Add the fresh parsley to the sauce.
Serve the stuffed fish on top of the sauce and sprinkle the toasted breadcrumbs on top of the stuffing. The toasted breadcrumbs give the dish some crunchiness and complements the whole dish really well.
Recipe by
Olga's Flavor Factory
at https://www.olgasflavorfactory.com/recipes/main-course/shrimp-stuffed-red-snapper-with-veracruz-sauce/