Coconut Raspberry Cake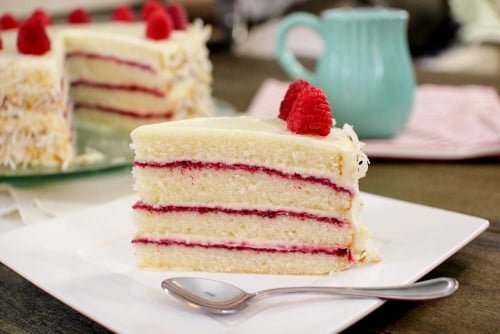 Author:
Olga's Flavor Factory
1 large egg plus 5 large egg whites
¾ cup cream of coconut
¼ cup water
1 teaspoon vanilla extract
1 teaspoon coconut extract
2¼ cups cake flour (9 ounces), sifted
¾ cup granulated sugar
1 Tablespoon baking powder
¾ teaspoon table salt
12 tablespoons butter (1½ sticks), cut into 12 pieces, softened
⅓ cup sugar (or to taste)
2 sticks butter, softened
1 (8 oz) package cream cheese, softened
½ cup powdered sugar
remaining cream of coconut
2 teaspoons vanilla
2 teaspoon coconut extract
Garnish: 1-2 cups toasted coconut flakes
fresh raspberries
Preheat the oven to 325 degrees Fahrenheit. Grease 2 (8-9 inch) round cake pans and line with parchment paper.
Combine all the wet ingredients (egg, egg whites, water, cream of coconut, vanilla and coconut extract) together and mix to combine.
In a large bowl of a standing mixer, with a paddle attachment, or using a hand mixer, combine all the dry ingredients (flour, sugar, baking powder and salt) and mix to combine.
Add the softened butter, mixing on low speed, one piece at a time, until it's incorporated into the dry ingredients, about 2 minutes. The butter pieces shouldn't be larger than pea sized.
With the mixer running on low, pour in the liquid ingredients. Mix until the batter is smooth.
Divide the batter evenly between the two prepared cake pans.
Bake in the preheated oven for about 30 minutes.
Cool for about 10 minutes and then take out of the pans onto cooling racks. When the cakes have cooled, cut them in half horizontally with a serrated knife.
Meanwhile, make the raspberry jam by combining the raspberries and sugar in a small saucepan. Bring to a boil, reduce to a simmer and cook for about 20 minutes.
Strain the raspberries through a fine mesh sieve. Set aside.
Combine the cream cheese and butter in a standing mixer using a paddle attachment. Mix until creamy and smooth.
Add the powdered sugar, the remaining container of cream of coconut and the extracts. Mix to combine.
Spread ⅓ of the raspberry jam on top of the first cake layer. Spread part of the frosting over the jam. Repeat with the rest of the cake layers.
Spread the frosting evenly over the top and sides of the cake.
Decorate the sides of the cake with the toasted coconut flakes and with fresh raspberries on top of the cake.