Crispy Pan-Fried Pork Chops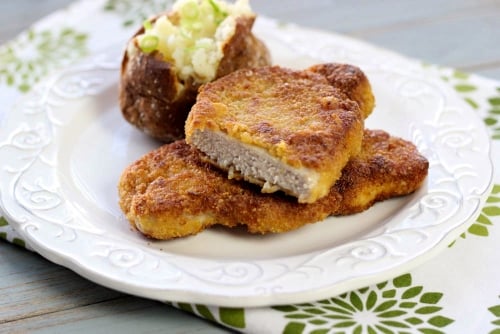 Author:
Olga's Flavor Factory
8 boneless, center-cut pork chops (3/4-1 inch thick, each)
salt, pepper
1 cup buttermilk
2 Tablespoons Dijon mustard
1 garlic clove, minced
⅔ cup cornstarch
3 cups corn flakes
oil, for pan frying (vegetable, canola, peanut, sunflower, etc)
Blot the pork chops dry with paper towels. Trim the pork chops and score them very lightly with a small paring knife, with a few diagonal slashes across surface of each pork chop. These shallow slashes will help the coating to adhere better to the meat. Season with salt and pepper on both sides.
Prepare your breading station by mixing the buttermilk, mustard and garlic in a shallow dish.
Place ⅓ cup of the cornstarch in another shallow dish.
Pulse the corn flakes with the remaining ⅓ cup of cornstarch, ½ teaspoon of salt and ½ teaspoon ground black pepper in a food processor until very finely ground. Place this mixture into another shallow dish.
Dredge each pork chop in the cornstarch. Pat the excess cornstarch off.
Next, dip the pork chop in the buttermilk mixture, letting excess drip off.
Lastly, dredge the pork chop in the corn flakes. Place the breaded pork chops on a baking sheet and allow them to rest for about 10 minutes. This will allow the breading to dry and adhere better once again.
Heat a generous amount of oil in a nonstick skillet. Fry the pork chops on medium to medium high heat, until golden and crisp on both sides, 3-5 minutes per side. Allow the pork chops to drain on a paper towel for 30 seconds only and then place them on a cooling rack. If you leave the pork chops on top of the paper towels, they will become soggy.
If you're not going to be eating the pork chops right away and want to keep the first pork chops warm while you fry the rest of them, you can keep them in a 200 degrees Fahrenheit oven. Just make sure that the pork chops are on a rack, not directly on the baking sheet, or the breading will become soggy.
Recipe by
Olga's Flavor Factory
at https://www.olgasflavorfactory.com/recipes/main-course/crispy-pan-fried-pork-chops/