Pasta With Roasted Cauliflower and Carrots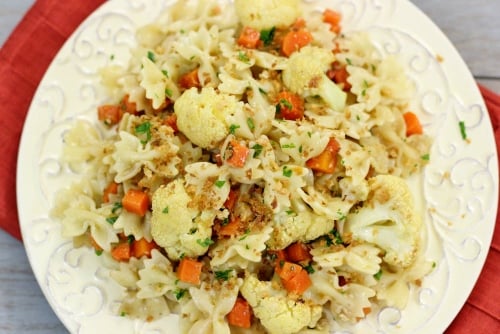 Author:
Olga's Flavor Factory
½ lb pasta (I used mini bow tie pasta)
1 cauliflower head, cut into florets
3-4 carrots, peeled and chopped into cubes
6 garlic cloves, minced
2-3 Tablespoons olive oil
salt, pepper
1 Tablespoon balsamic vinegar
¼ cup Parmesan cheese, finely grated
½ Tablespoon butter
½ cup panko breadcrumbs
fresh parley, for garnishing
Preheat oven to 450 degrees Fahrenheit. Place a large rimmed baking sheet in the oven while it's preheating.
Toss the cauliflower, carrots and garlic with the olive oil. Season with salt and pepper.
When the oven has preheated, take out the hot baking sheet and place the vegetables on it. You should hear the vegetables start to sizzle right away. Roast in the oven about 25-30 minutes, until the vegetables are tender and golden brown in spots. Toss them halfway through.
As soon as you place the vegetables in the oven, bring a large pot of salted water to a boil. Add the pasta to the water and cook it to the doneness that you like.
In a skillet, brown the breadcrumbs in the butter until golden brown.
Toss the pasta with the roasted veggies, Parmesan cheese, balsamic vinegar and parsley. Garnish with the toasted breadcrumbs.
Recipe by
Olga's Flavor Factory
at https://www.olgasflavorfactory.com/recipes/ontheside/side-dishes/pasta-with-roasted-cauliflower-and-carrots/