Multigrain Bread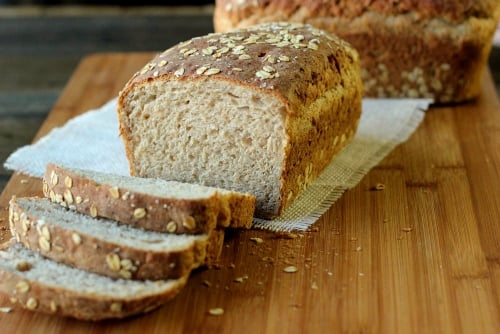 Author:
Olga's Flavor Factory
Recipe type:
Miscellaneous
Serves:
2 loaves of bread
1¼ cups 7-grain hot cereal mix
2½ cups boiling water
3 cups unbleached all-purpose flour, plus extra for dusting work surface
1½ cups whole-wheat flour
4 Tablespoons honey
4 Tablespoons butter, melted and cooled slightly
2½ teaspoons instant yeast
1 Tablespoon table salt
½ cup old-fashioned rolled oats or quick oats
Pour the boiling water over the cereal mix and set aside for about an hour, until it cools to approximately 100 degrees Fahrenheit. During that time, the cereal will hydrate and soften, soaking in all that water.
In another large bowl, combine the two flours together.
Once the cereal has cooled, add the honey, melted butter and yeast. Mix to combine.
In a standing mixer with a dough hook attachment, mix the dough on low speed, slowly adding in the mixed flours. Mix for about 2 minutes, until the dough forms a ball.
Cover the bowl with plastic wrap and set it aside to rest for 20 minutes.
Add the salt and mix knead the bread dough for about 7 minutes, until the dough has pulled away from the sides of the bowl. If you've mixed if for 3-5 minutes and it's still sticking to the bowl, add 3 Tablespoons more flour.
Coat the dough lightly in oil, cover the bowl with plastic wrap or a towel and set aside to rise in a warm place until doubled in size, about 40 minutes.
Preheat the oven to 375 degrees Fahrenheit. Grease 2 bread pans with oil.
When the dough has doubled in size, cut the dough in half. Flatten each half of dough into a rectangle and then tightly roll the rectangle into a loaf.
Lightly spritz each loaf with water or oil and roll in the oats, just enough for the oats to adhere to the bread. Place into the loaf pans and set aside to rise until double in size, for another 40 minutes or so.
Bake for 35-40 minutes in the preheated oven.
Cool the bread in the loaf pans for about 5 minutes before taking them out of the loaf pans and onto a cooling rack.