Cranberry Swirl Loaf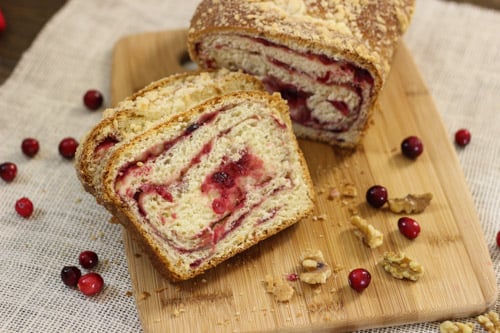 Author:
Olga's Flavor Factory
⅓ cup sugar
1 package (1/4 ounce) quick-rise yeast
½ teaspoon salt
3 to 3-1/2 cups all-purpose flour
½ cup water
½ cup milk
⅓ cup butter, cubed
1¼ cup chopped fresh or frozen cranberries
¼ cup packed brown sugar
¼ cup water
1 Tablespoon butter
½ Tablespoon lemon juice
½ cup walnuts
2 Tablespoons all-purpose flour
2 Tablespoons sugar
2 Tablespoons cold butter, divided
In a large bowl of a standing mixer (or you can mix it by hand), combine the sugar, yeast, salt and flour.
Heat up the water, milk and butter to 120 degrees Fahrenheit. Pour the liquid ingredients into the dry ingredients and mix on low speed using a dough hook, until all the dry ingredients are incorporated into the wet ingredients.
Increase the speed to medium-high and mix until the dough pulls aways from the sides of the bowl, about 5 minutes. Place the dough in a greased bowl, cover tightly with plastic wrap or a clean kitchen towel and set aside in a warm place to rise until the dough doubles in size, about 1 hour.
Meanwhile, in a small saucepan, add the cranberries, (you can use either fresh or frozen), brown sugar and water. Bring to a boil, reduce to a simmer, and cook, covered, for about 15 minutes. The berries should "pop".
Add the butter, lemon juice and walnuts, mixing to combine. Set aside while the dough finishes rising.
Grease a 9x5 inch bread pan with butter or oil. Preheat the oven to 350 degrees Fahrenheit.
In a small bowl, combine the ingredients for the topping, with one Tablespoon of butter, setting the other Tablespoon of butter aside. Mix the ingredients with a fork, until you have a crumbly texture. Set aside.
Roll out the dough on a lightly floured surface into a 20x10 inch rectangle.
Spread the Cranberry Filling evenly on the surface of the rolled out dough, leaving about a 1 inch border around the edges.
Roll up the dough tightly, starting with the long side. Place the rolled up dough into the prepared bread pan, in a zigzag way.
Melt the remaining Tablespoon of butter and brush it over the top of the bread. Sprinkle the topping on top of the bread.
Place the bread in a warm place to rise, until it doubles in size, about 40 minutes.
Bake in the preheated oven, 40-45 minutes.
Take the bread out of the bread pan onto a cooling rack until it cools for at least 15 minutes, preferably for 45 minutes to an hour, but who am I kidding? I can never wait that long!