Beef and Buckwheat Soup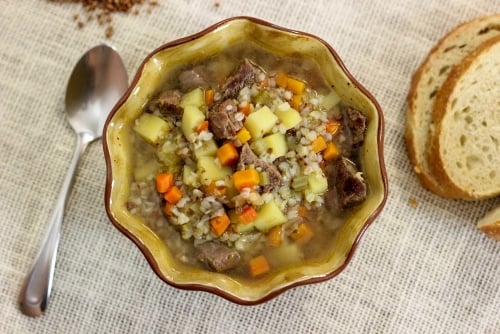 Author:
Olga's Flavor Factory
¾ - 1 lb beef, chuck (boneless, cut into 1 inch cubes)
2 dry bay leaves
5-7 whole black pepper corns
1 Tablespoon butter or oil
1 onion, chopped
3 carrots, chopped
2 celery stalks, sliced
3 garlic cloves, minced
1-3 thyme sprigs
3 potatoes, peeled and chopped
10 cups chicken broth
¼ - ½ cup white wine, optional
1 cup buckwheat
2 Tablespoons fresh parsley, minced, to garnish soup
Prep all your ingredients.
Place the chunks of beef in a small pot and fill it with water, just enough to cover the beef. Add the bay leaves and pepper corns. Bring it to a boil. Season with salt. Simmer the beef, covered, until the beef is tender, 1 -1½ hours.
Meanwhile, in a large pot, melt the butter or heat the oil until it's hot and add the onion, carrots, celery, garlic and thyme. Season with salt and pepper and cook for about 7 minutes, until the vegetables have softened, on medium heat.
Add the potatoes, chicken broth, (I also added a splash of white wine) and buckwheat. Bring to a boil. Season with salt and pepper.
Cook the soup for another 20-25 minutes, until the potatoes and buckwheat are cooked through. Discard the thyme sprigs.
When the beef is tender, strain the broth through a fine mesh sieve lined with a paper towel or cheesecloth, discard the bay leaves and peppercorns and add the beef and the broth it was cooking in to the soup. Garnish with fresh parsley.