Russian Cheese Stuffed Flatbread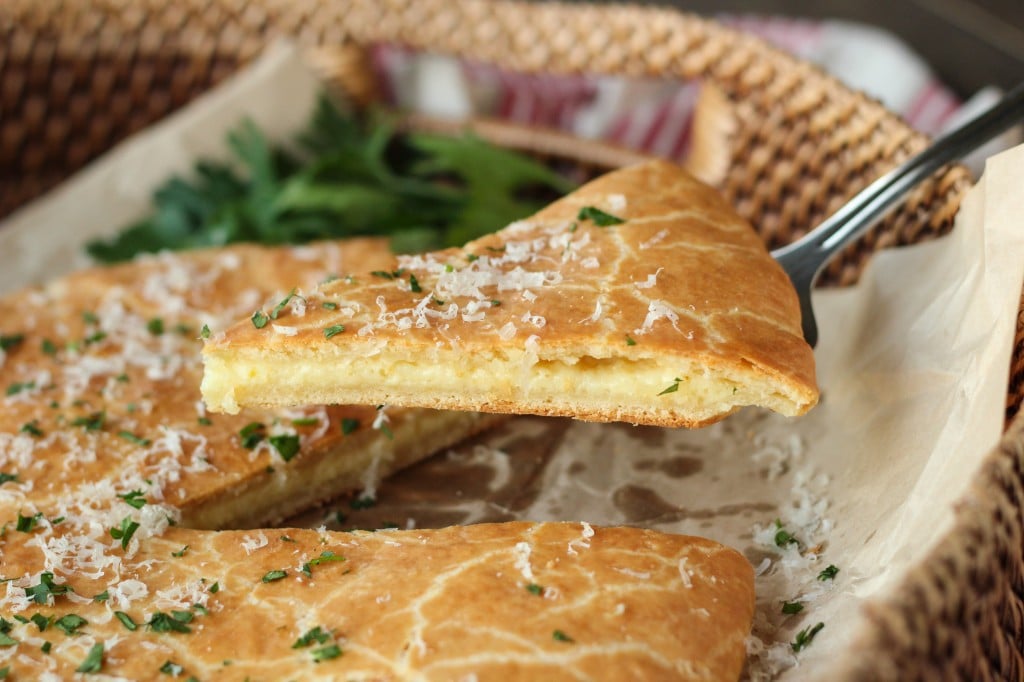 Author:
Olga's Flavor Factory
Recipe type:
Miscellaneous
1¾ cups all purpose flour
1 teaspoon baking powder
½ teaspoon salt
1 teaspoon sugar
8 oz farmer's cheese (1½ - 1¾ cups)
1 stick (8 Tablespoons) butter, softened
1 egg
6 oz cheese (Monterey Jack, mozzarella, provolone, cheddar, etc.), finely grated
¼ cup Parmesan cheese, finely grated
1 egg
1 Tablespoon sour cream
1 garlic clove, minced
Parmesan cheese, finely grated
Fresh parsley, chopped
Preheat the oven to 375 degrees Fahrenheit. Line a rimmed baking sheet with parchment paper.
Start by making the Cheese Filling, so it'll be ready to go as soon as you make the bread dough.
Combine the finely grated cheeses, egg, sour cream and minced garlic clove and mix. Set aside.
Farmer's cheese is usually very stiff and dense, so I usually like to pulse it a few times in the food processor, so it will be easier to mix thoroughly in the dough.
In a large bowl, combine the flour, farmer's cheese, softened butter and egg. Mix it gently, until a soft dough forms.
Divide the dough into two pieces, one slightly larger than the other.
On a lightly floured surface, roll out the smaller piece of dough into an approximately 11 inch circle.
Spread the cheese filling over the dough, leaving a small border.
Roll out the second part of dough on a lightly floured surface as well, this time into an approximately 12 -13 inch circle. Place it over the filling and tuck the edges of the top under the bottom piece of dough.
Brush with an egg wash and poke the top of the bread with a fork all over the surface.
Bake in the preheated oven for 20-30 minutes.
Serve the bread with a garnish of fresh minced parsley and more finely grated Parmesan cheese.
Recipe by
Olga's Flavor Factory
at https://www.olgasflavorfactory.com/recipes/appetizers/russian-cheese-stuffed-flatbread/