The Best Turkey Gravy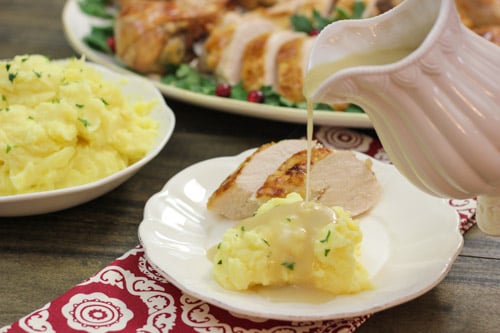 Author:
Olga's Flavor Factory
Recipe type:
Miscellaneous
¼ cup turkey fat or butter
¼ cup flour
2 cups turkey or chicken drippings/broth
This recipe is made together with Roast Turkey, and the turkey fat and drippings that render out while the turkey is roasting in the oven.
Strain the turkey liquid and the vegetables through a fine mesh sieve, pressing on the vegetables to get out as much juice out of them as possible. Discard the vegetables. They did their job.
Set the turkey drippings aside for about 5 minutes. The fat will rise to the top. If you have a gravy separator, this would be the time to use it.
Carefully spoon the fat into a small saucepan. You should have approximately ¼ cup of the turkey fat. If your turkey is on the leaner side, or you're cooking a wild turkey, add additional butter or oil, to have ¼ cup.
You should also have about 2 cups of turkey liquid, if not, add more broth, to equal 2 cups. You can also add a splash of white wine. I normally add wine to most of my gravies and sauces, but in this case, the gravy is SO flavorful, I don't think it needs it.
Heat up the fat until it's simmering.
Add the flour and whisk to combine.
Cook for about a minute, to cook off the raw flour taste.
Slowly pour in the turkey liquid (or chicken broth), whisking the whole time.
Bring it to a simmer and keep slowly adding more turkey liquid or chicken broth, whisking the whole time.
Simmer the gravy until it thickens, about 5 minutes. Set aside.
Serve with mashed potatoes and turkey.
You can easily reheat the gravy, if you make it ahead of time. It will thicken significantly with time, so if you're serving it the next day, you may wish to add more chicken broth to thin it out.