Festive Green Beans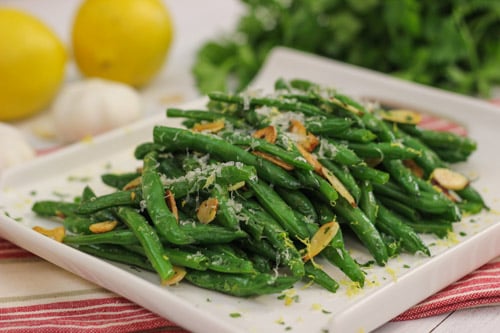 Author:
Olga's Flavor Factory
1½ lbs green beans
salt, pepper
¼-1/2 cup almonds, sliced
1 - 1½ Tablespoons olive oil
3-5 garlic cloves, sliced
1-2 teaspoon lemon zest
¼ cup Parmesan cheese, finely grated
½ Tablespoon fresh parsley, minced
Bring a pot of generously salted water to a boil. Blanch the green beans in the boiling water for about 3 minutes, drain. Meanwhile, toast the almonds on a dry skillet until they are golden brown. Set aside. In the same skillet, heat the olive oil on medium high heat and add the sliced garlic. Cook until the garlic turns golden, but be careful not to burn it, since it will taste bitter. (I used garlic slices in this recipe because I wanted it to resemble the sliced almonds, but you can also used minced garlic, in which case cook it for about 30 seconds to a minute only. You can also smash the garlic cloves and add them to the oil whole, cook them and then discard the garlic. The oil will have the flavor of garlic, but the finished dish will just have a very mild garlic flavor.)
Take the garlic out with a slotted spoon and place it on a paper towel lined plate to drain off the excess oil. Add the blanched green beans to the oil, season with more salt (if it needs it) and pepper. Sauté on high heat, just for about 3 minutes, until the green beans are slightly charred in some places. Toss the beans with the almonds, garlic, lemon zest, Parmesan cheese and parsley. Serve immediately.
You can do most of the prep work ahead of time. Blanch the green beans, toast the almonds and you can keep them in the refrigerator and a ziptop bag respectively. Just cook the garlic and sauté the green beans when you are ready to serve them and toss with the rest of the ingredients.