Raisin, Poppy Seed and Nut Loaf (Three Wishes Keks)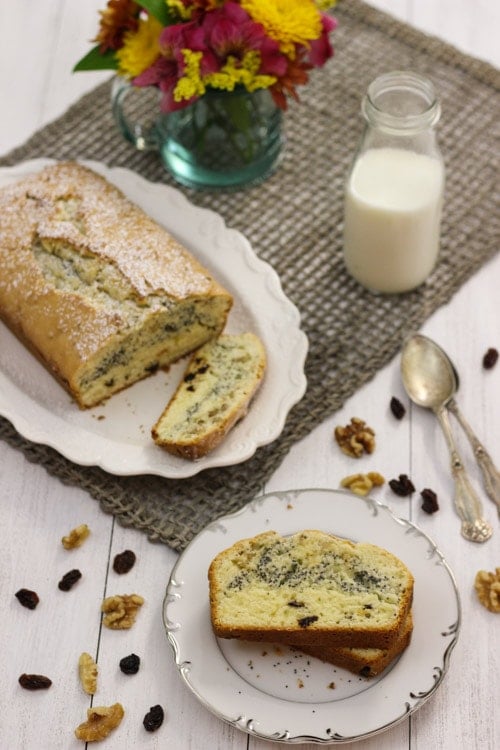 Author:
Olga's Flavor Factory
1 stick (8 Tablespoons) butter, softened
½ - 1 cup sugar (I used ½ cup, but I prefer baked goods to be less sweet)
2 eggs
½ cup buttermilk
2 teaspoons vanilla
2 cups flour
2 teaspoons baking powder
¼ teaspoon salt
¼ cup raisins
2 Tablespoons poppy seeds
¼ cup nuts
powdered sugar, to dust the loaf, optional
Preheat the oven to 350 degrees Fahrenheit. Grease a loaf pan with butter or baking spray.
In a large bowl of a standing mixer with a paddle attachment or using a stand mixer, cream the butter and sugar until pale yellow and fluffy, 3-5 minutes.
Add the eggs, one at a time.
In another bowl, whisk together the flour, baking powder and salt until evenly mixed. Add half of the dry ingredients to the creamed batter, followed by half of the buttermilk and vanilla and so on until you've added it all to the batter.
Divide the batter into 3 even parts. You will be adding the raisins, poppy seeds and nuts to each part of the batter.
Add the raisins to the first part and spread it out evenly into the bottom of the prepared loaf pan. Add the poppy seeds to the second part of the batter and spread it out evenly over the first layer of batter. Finish by adding the nuts to the third part of batter and spread it out evenly over the poppy seed layer.
Bake in the preheated oven for 30-35 minutes, until a toothpick inserted into the center of the loaf comes out clean.
Let it stand in the loaf pan for 3-5 minutes and then take it out and set it on a cooling rack. Dust with powdered sugar.
This keks is very versatile. If you don't feel like fussing with the different layers, you can add only raisins, for example, to the whole thing. You can also add all of them at the same time without making individual layers. You can also use any kind of dry fruit, not just raisins, such as dry cranberries, cherries, dates, apricots, etc. Use whatever nuts you like, walnuts, pecans, cashews, hazelnuts, etc. How about adding chocolate chips?
Recipe by
Olga's Flavor Factory
at https://www.olgasflavorfactory.com/recipes/sweets/desserts/raisin-poppy-seed-and-nut-loaf-three-wishes-keks/