Chicken Manicotti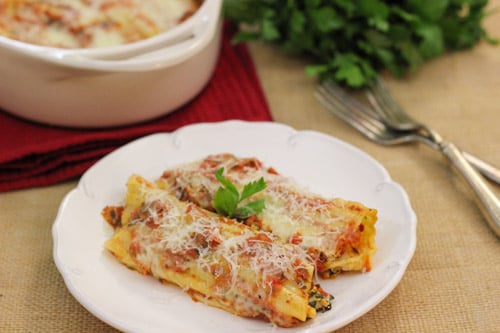 Author:
Olga's Flavor Factory
1 package manicotti shells (14 shells)
½ Tablespoon oil
¾ lb ground chicken
1 onion, chopped
3 garlic cloves, minced
½ teaspoon coriander
salt, pepper
1 teaspoon Italian dry herbs
14 oz small curd cottage cheese, drained
5 oz frozen spinach (1/2 cup drained spinach)
1 Tablespoon sun dried peppers, minced
2 Tablespoons sun dried tomatoes, minced
¼ cup Parmesan cheese, grated
¾ cup Mozzarella cheese, grated (plus 1 cup for sprinkling on top of the manicotti)
2 eggs
2-3 garlic cloves, minced
½ Tablespoon olive oil
1 (14 oz) can diced tomatoes
salt, pepper
½ Tablespoon dry Italian herbs
1 Tablespoon fresh basil and parsley, each, chopped
First of all, bring a large pot of water to a boil and cook the pasta according to the package directions. The pasta should only be partially cooked, since it will continue cooking when it bakes. Drain the pasta and set is aside.
While the water is coming to a boil, heat ½ a Tablespoon of oil in a skillet and add the onion and garlic. Season with salt and pepper and cook until the onion has softened and become slightly golden, 5-7 minutes.
Add the ground chicken and season with salt, pepper, coriander, Italian dry herbs, etc. You can add whatever seasonings you like.You can also use other meat in here, such as ground turkey, pork, beef, sausage, etc. I prefer ground chicken. Cook until the meat is cooked through.
Place it in a large bowl and add the spinach, sun dried tomatoes and sun dried peppers. Make sure that you drain the frozen spinach really well. Mix to combine.
You can certainly use fresh spinach, but you'll need to sauté it until it wilts and also drain as much liquid out of it as you can. Instead of sun dried peppers and tomatoes, you can use fresh ones. Use twice as much as it you would need the dry ingredients and it would be best to sauté them first, so add them to the onions and garlic. I love to use sun dried peppers and tomatoes. They have such a great flavor, and they are very concentrated, so just a small amount will really impact the dish.
When the meat has cooled off, add the cottage cheese, Mozzarella, Parmesan and eggs. Season with a bit more salt and pepper.
Pulse the tomatoes in the food processor until they are the consistency that you like.
Heat 1 Tablespoon of olive oil in a deep skillet, adding the minced garlic while the skillet is still cold. Cook for just a minute or two until the garlic starts to get fragrant.
Add the pureed tomatoes, season with salt, pepper and dry Italian herbs. Cook for about 15 minutes, covered, on medium heat. Add the fresh herbs. Your sauce is done.
Preheat the oven to 400 degrees Fahrenheit.
Pour some of the sauce into the bottom of the baking dish that you will be baking the manicotti in.
Fill the manicotti shells with the filling and nestle them into the sauce. Cover with more sauce on top of the manicotti and sprinkle with cheese. I prefer to use part skim Mozzarella cheese, because it melts beautifully, but you won't have that really greasy, orange stuff floating on top of your dish.
You can use any deep, rimmed baking dish for the manicotti, as long as you have sauce on the bottom and on top of the filled manicotti shells.
Cover with aluminum foil and bake in the preheated oven for about 30-40 minutes, until it's bubbling around the edges. Take off the aluminum towards the end of cooking, just to brown the cheese a bit.
Manicotti is a perfect dish to make ahead of time. You can simply store it in the refrigerator a day or two in advance, or store it in the freezer. When you are really busy or just want a simple meal, thaw the manicotti and then bake as you normal would.