Individual Lemon Poppy Seed Cakes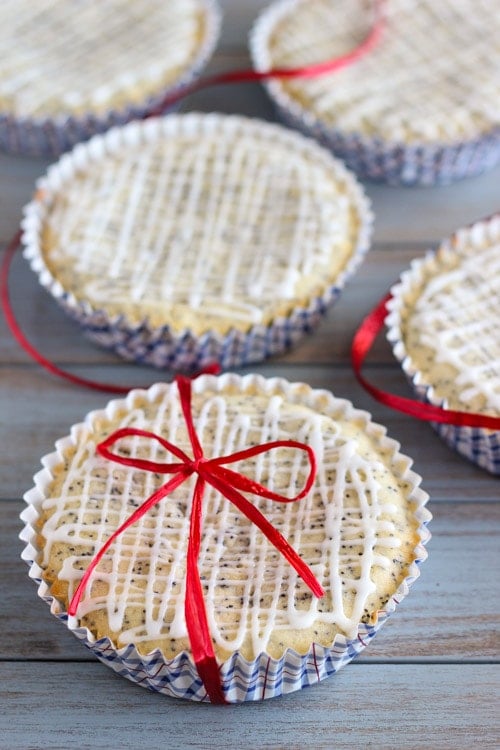 Author:
Olga's Flavor Factory
4½ cups all-purpose flour
1½ teaspoon baking powder
¾ teaspoon baking soda
1 teaspoon table salt
3 lemons, zest grated and saved, plus 5 tablespoons juice (see note above)
2 teaspoon vanilla extract
1½ cup buttermilk
4 eggs, at room temperature
2 egg yolk, at room temperature
28 tablespoons butter (3½ sticks), at room temperature
2½ cups sugar (14 ounces)
¾ cup poppy seeds
2 - 3 Tablespoons lemon juice (see note above)
1 Tablespoon buttermilk
2 cups confectioners' sugar (8 ounces)
Preheat the oven to 350 degrees Fahrenheit. Place the individual paper baking cups onto a rimmed baking sheet.
In a medium bowl, whisk the flour, baking powder, baking soda and salt.
In another bowl or in a liquid measuring cup, combine the lemon zest and juice, vanilla and buttermilk.
In a medium bowl, whisk together the eggs and egg yolks.
Using a standing mixer with a paddle attachment or using a large bowl and a hand mixer, mix the butter and sugar until pale yellow and fluffy, about 5 minutes.
Add the eggs and mix to combine.
Add ⅓ of the dry ingredients, mix to combine. Add half of the wet ingredients, followed by half of the dry ingredients, the remaining wet ingredients and lastly with the dry ingredients, mixing to combine in between each addition. Using this method of adding ingredients to the batter will create a really great texture for the cake, very tender with a fine crumb.
Add the poppy seeds and mix to combine.
Divide the batter between the individual baking pans. I used an ice cream scoop to ladle out the batter and put about 3 scoops of batter into each baking pan. Since I was making the cakes for a collection of baked goodies that were all packed into one box, I purposefully made them shorter, so that the glazed top would not touch the rest of the cookies. Normally, I would make them slightly taller, so you should have 12 cakes, or 13 if you will make them shorter, like I did.
Bake in the preheated oven for 12-15 minutes, or until the top of the cake springs back when touched or a toothpick comes out clean.
Whisk all the ingredients together until the glaze is pourable. You might need to add more lemon juice, just don't add too much or the glaze will stay wet and won't set. When the cakes have cooled slightly, pour the glaze over each cake. I put the glaze into a ziptop bag, snipped off a corner and made zigzag lines on each cake. Normally, I would just use a spoon or the whisk to drizzle the glaze onto the cakes, but since I didn't want any of the glaze to get on the sides of the cakes, I used a ziptop bag to make it neater with no drips. Enjoy with a cup of coffee or tea, whichever you prefer:).
Recipe by
Olga's Flavor Factory
at https://www.olgasflavorfactory.com/recipes/sweets/individual-lemon-poppy-seed-cakes/