White Chocolate, Macadamia and Cranberry Blondies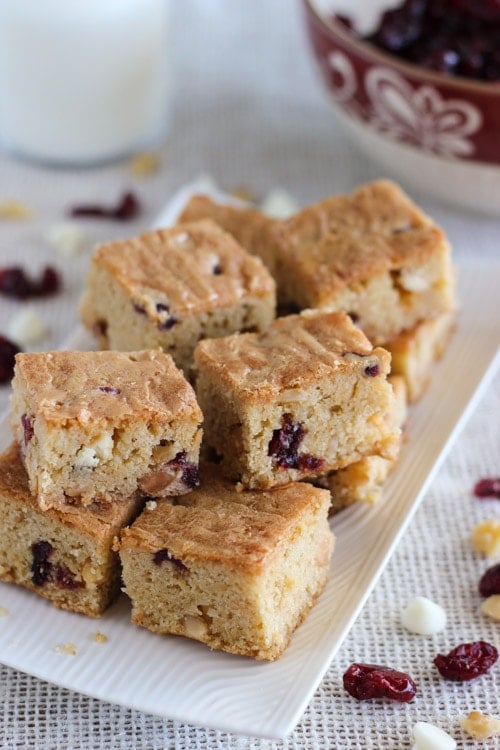 Author:
Olga's Flavor Factory
1½ cups flour
1 teaspoon baking powder
½ teaspoon salt
12 tablespoons butter ( 1½ sticks), melted and cooled
1 cup packed brown sugar
2 eggs
4 teaspoons vanilla
¾ - 1 cup white chocolate chips (or semi sweet chocolate chips, or a chopped chocolate bar)
¾ - 1 cup macadamia nuts (or walnuts, pecans, hazelnuts, etc.)
½ - ¾ cup cry cranberries
Preheat the oven to 350 degrees Fahrenheit. Line a 13x9 inch rimmed baking dish with aluminum foil or parchment paper.
Combine the flour, baking powder and salt in a medium bowl and whisk to combine.
In a large bowl, whisk the melted and slightly cooled butter with the brown sugar.
Add the eggs and vanilla and mix to combine.
Add the dry ingredients to the wet ingredients and mix the batter with a wooden spoon or rubber spatula until all the dry ingredients are incorporated into the batter, being careful not to over mix.
Add the white chocolate, macadamia nuts and dried cranberries, mix to combine.
Transfer the batter into the prepared baking dish and bake in the preheated oven for 22-25 minutes.
Cool the bars to room temperature and then take them out of the pan along with the aluminum foil. Cut into bars.
Recipe by
Olga's Flavor Factory
at https://www.olgasflavorfactory.com/recipes/weeknight-dinners/white-chocolate-macadamia-and-cranberry-blondies/