Eggplant Parmesan Pasta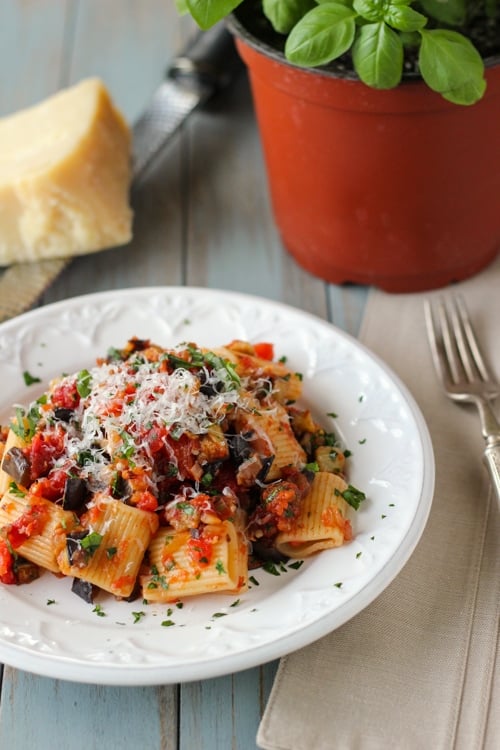 Author:
Olga's Flavor Factory
1 lb pasta (rigatoni)
1-2 Tablespoons olive oil
1-2 eggplants (1- 1½ lbs total)
1 onion, chopped
1 bell pepper, chopped
3-5 garlic cloves, minced
2 (14.5 oz, each) cans diced tomatoes
1 Tablespoon chopped fresh parsley and basil, each
salt, pepper
Parmesan cheese, to garnish each plate, finely grated
Chop the eggplant into cubes. They can be whatever size you like. Sprinkle the eggplant with about ½-3/4 teaspoon of salt. Place the eggplant in a colander or fine mesh sieve and let it stand for about 30 minutes, until the eggplant softens and the salt draws the water out. Pat the eggplant dry on a towel.
Meanwhile, place a large pot of salted water on the stove and bring it to a boil. Cook the pasta according to how you like it, al dente, soft, mushy, it's up to you.
While the water is coming to a boil and the pasta is cooking, heat about 1 Tablespoon of olive oil in a skillet over medium high heat and add the eggplant. Cook for about 5 minutes, until the eggplant is golden. Place the cooked eggplant into a bowl and set it aside.
(You can also roast the eggplant in the oven. Toss the salted and dried eggplant cubes with 1 Tablespoon of olive oil and roast it on a rimmed baking sheet at 450 degrees Fahrenheit for about 15 minutes, or until golden brown. Set aside as well.)
In the same skillet, add the remaining Tablespoon of oil and add the onion. Season it with salt and pepper and cook for about 5 minutes.
Add the bell pepper and garlic to the softened onion and cook for another 3-5 minutes.
Pulse the contents of one of the cans of diced tomatoes in a food processor and leave the other can of tomatoes diced. Add the pureed and diced tomatoes as well as the garlic to the skillet. Season with salt and pepper. Cover and cook on medium low heat for about 7 minutes.
When the pasta has finished cooking, drain the pasta, add the eggplant to the tomato sauce and add the sauce, along with the herbs, to the pasta. Mix to combine. Garnish each portion of pasta with finely grated Parmesan cheese.