Parmesan Potatoes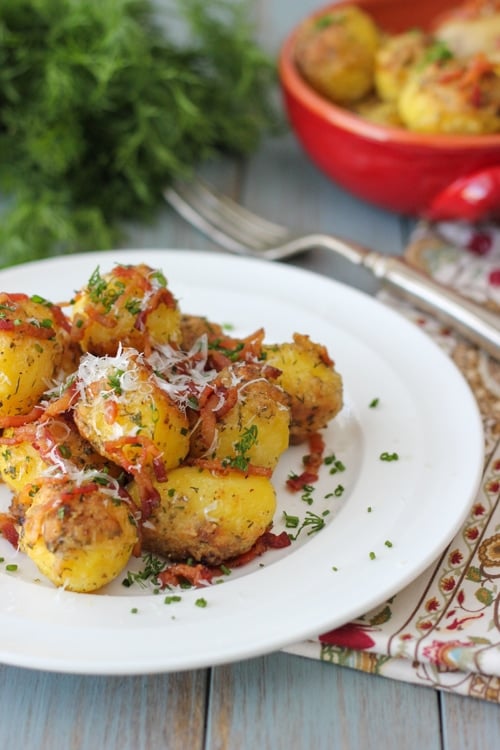 Author:
Olga's Flavor Factory
3½ lbs baby potatoes, peeled
1½ - 1¾ cups Parmesan cheese, friendly grated
1 Tablespoon fresh dill and parsley, minced, each (plus more to garnish)
1 Tablespoon dry herbs (any mixture that you like)
3 garlic cloves, minced
salt, pepper
2 Tablespoons oil
4 bacon strips, cut into lardons
chives, minced, to garnish
Preheat the oven to 400 degrees Fahrenheit. Peel the potatoes, place them into a pot, pour in just enough water to barely cover the potatoes and cook in salted water until the potatoes are just cooked through but still firm. Drain the water. Mix the grated Parmesan cheese with the fresh herbs, dry herbs, salt and pepper. Dredge the potatoes in the cheese mixture. You might have a hard time getting the cheese to stick, just press it firmly into the potatoes, or just sprinkle the cheese on top of the potatoes.
Brush a large rimmed baking sheet with 2 Tablespoons of oil.
Place the potatoes onto a rimmed baking sheet into the preheated oven. Roast for about 15 minutes. Add the bacon to the potatoes. Return to the oven and continue baking for another 10-15 minutes, until the bacon is crisp and golden. You can also cook the bacon in a skillet while the potatoes are in the oven, if you wish. Garnish the potatoes with more fresh herbs and Parmesan cheese.