Butterflied Roast Chicken With Rice Stuffing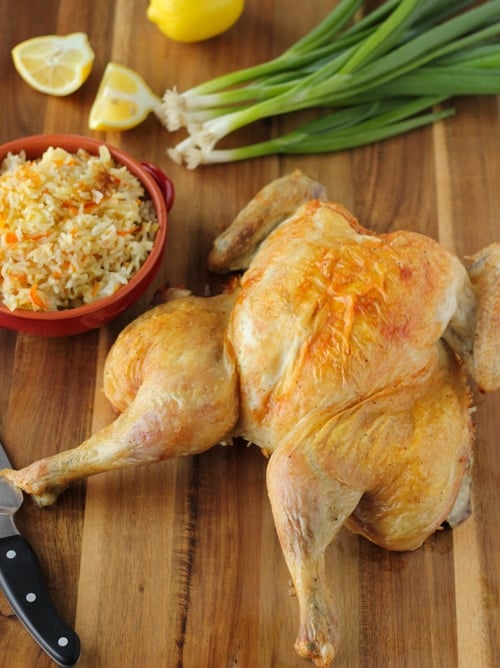 Author:
Olga's Flavor Factory
1 whole chicken (4-5 lbs)
¾ - 1 cup uncooked rice
1 Tablespoon butter or oil
1 onion, chopped
1 carrot, grated
1 celery stalk, chopped
2 garlic cloves, minced
salt, pepper
1 Tablespoon oil
Preheat the oven to 400 degrees Fahrenheit. Line a rimmed baking sheet with aluminum foil.
Cut the backbone out of the chicken. Using kitchen shears is the best option. (Save the backbone to use in chicken broth.)
Season the chicken with salt and pepper.
Cook the rice according to the package directions, slightly undercooking it. Your rice should be 90% cooked.
While the rice is cooking, in a skillet, melt the butter. Add the onion, carrots, celery and garlic. Season with salt and pepper. Cook on medium heat for about 5 minutes, until all the vegetables are tender.
When the rice is cooked, drain it and add the vegetables to it. Mix to combine.
Mound the rice on the prepared baking sheet, shaping it into sort of an oval shape. Eye your bird and make the rice as a bed for it to rest on. Place the butterflied chicken on top of the rice. The chicken should cover the rice completely. If a bit of rice is sticking out from the edges it ok.
Rub the chicken with 1 Tablespoon of oil. Place in the preheated oven and bake for about 1 hour, until your instant read thermometer reads 165 degrees in the chicken breast and 175 degrees in the thickest part of the thigh. Let the chicken rest for about 15 minutes before carving it. Serve with the rice.
Recipe by
Olga's Flavor Factory
at https://www.olgasflavorfactory.com/recipes/main-course/poultry/butterflied-roast-chicken-rice-stuffing/