Ricotta Cheesecake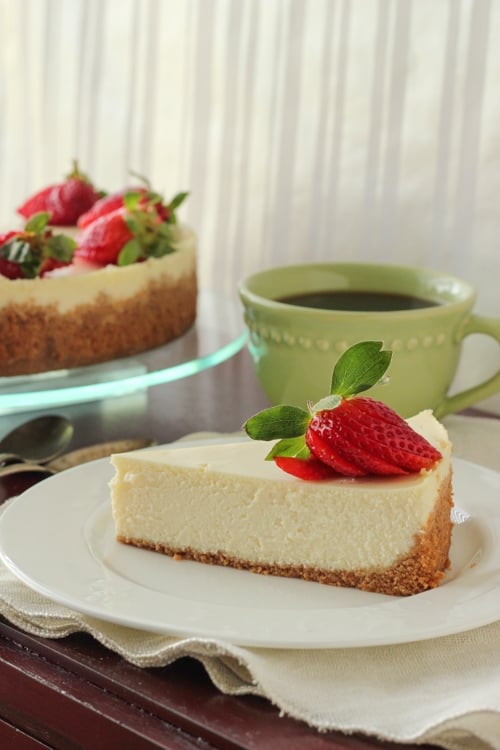 Author:
Olga's Flavor Factory
Serves:
1 (9 inch) cheesecake
Crust:
5 oz graham crackers (about 10 crackers)
1 Tablespoon sugar
4 Tablespoons butter, melted
Cheesecake:
2½ cups ricotta cheese
2 packages (8 oz each) cream cheese
¾ cups sugar
¼ teaspoon salt
4 eggs
2 teaspoons vanilla
2 Tablespoons flour
Preheat the oven to 325 degrees Fahrenheit. Brush a 9 inch springform pan with 1-2 teaspoons of the melted butter.
Pulse the graham crackers with the remaining melted butter and the sugar until you have uniform crumbs.
Press the crumbs into the prepared springform pan. Bake for about 12 minutes. Cool the crust for 10 minutes.
Wipe out the food processor and place all the ingredients for the cheesecake into the food processor. Pulse to combine until you have an even consistency. You can also use a standing mixer or a hand held mixer to mix the batter. Pour the cheesecake batter into crust.
Wrap the outside of the springform pan in several layers of aluminum foil and place it inside a large roasting pan and pour in about an inch of water. This step isn't necessary, but it will help to keep the top of the cheesecake from cracking.
Bake the cheesecake for an hour and 15-30 minutes.
Cool the cheesecake, preferably refrigerate overnight. Top with your choice of toppings.