Quick and Simple Meat Sauce For Pasta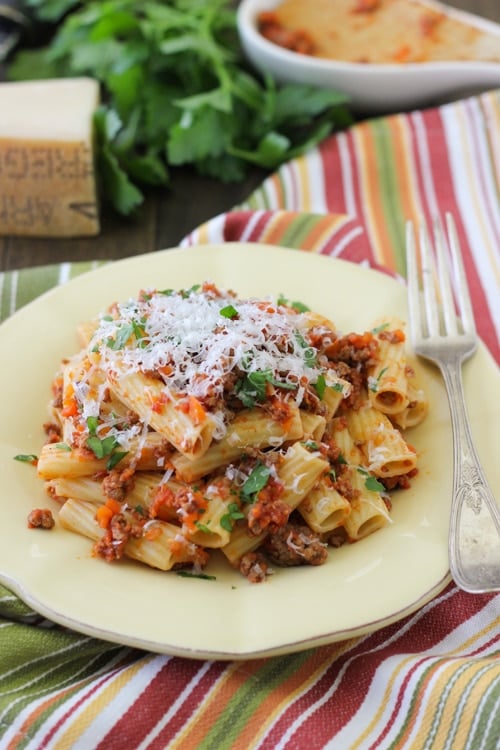 Author:
Olga's Flavor Factory
1-2 Tablespoons olive oil
¾ - 1 lb ground beef
1 onion
2 carrots
1 celery stalk
2 garlic cloves, minced
1 (28 oz) can crushed tomatoes
2-3 Tablespoons tomato paste, optional
1-2 Tablespoons dry herbs, such as Italian seasoning, optional
¼ cup heavy cream (or half n half), optional
1-2 Tablespoons fresh parsley, basil, chopped
¼-1/2 cup Parmesan cheese, finely grated
1 lb pasta (any kind)
salt, pepper (to taste)
Heat the oil in a large skillet or a dutch oven and add the ground beef. Season with salt and pepper. Cook on high heat for 3-5 minutes until the meat is browned.
Coarsely chop the onion, carrots and celery. Place them in a food processor and pulse several times until the vegetables are uniformly chopped into very small pieces.
Add the vegetables to the ground beef, season with salt and pepper, and cook for 5-7 minutes, until the vegetables are softened.
Add the crushed tomatoes, garlic and tomato paste, if using. Season once again with salt and pepper and dry herbs. Bring to a boil, reduce to a simmer, and cook, covered, for about 20 minutes.
Meanwhile, bring a large pot of water to a boil and cook the pasta according to your liking. Drain the pasta, reserving about a cup of pasta water.
Add the heavy cream and fresh herbs to the meat sauce.
Mix the sauce with the pasta. Add some of the reserved pasta water, if you need to loosen it up a bit. You may want to use more or less pasta, depending on how much sauce you like with your pasta.
Garnish the pasta with the Parmesan cheese.
Recipe by
Olga's Flavor Factory
at https://www.olgasflavorfactory.com/recipes/main-course/quick-simple-meat-sauce-pasta/