Apple and Blueberry Crepes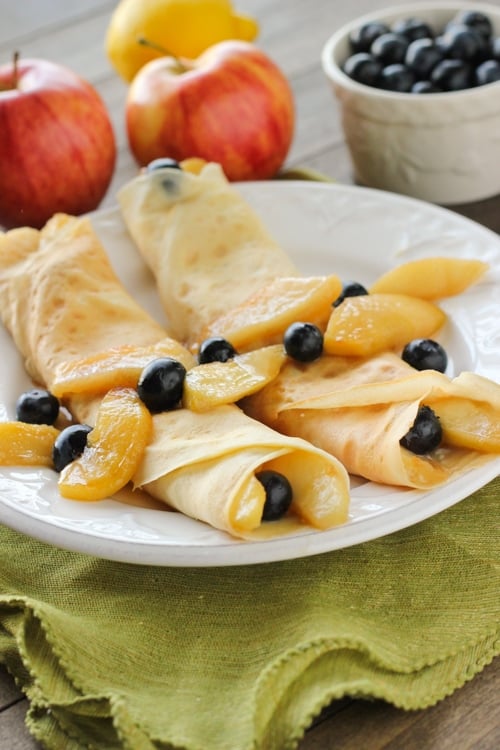 Author:
Olga's Flavor Factory
2 cups milk
3 eggs
3 Tablespoons oil
2-3 teaspoons sugar
½ teaspoons salt
1¾ cup flour
butter or oil for the skillet
12 oz cream cheese, softened
⅓ cup sugar
2 teaspoons vanilla
½ teaspoon salt
1 teaspoon lemon zest
4 Tablespoons butter
4-6 apples, peeled, cored and sliced
¼ cup brown sugar
2 Tablespoons lemon juice
1 pint blueberries
Whisk the eggs with the sugar and salt. Pour in the milk and oil, mix to combine. Add the flour and mix to combine. Refrigerate the crepe batter for 15-20 minutes, or even overnight.
Heat a nonstick skillet over medium high heat. Brush with a little bit of butter or oil, using a paper towel to distribute an even amount over the skillet. When the skillet is hot, pour in some crepe batter (a little bit more than half of a ¼ measuring cup for an 8 inch skillet) and tilt the skillet, distributing the batter evenly over the surface of the skillet.
Flip the crepe over when the edges are slightly dry, about 1 min on the first side and 30 seconds on the second side.
Repeat with all the batter, putting the crepes on a round dinner plate and covering with aluminum foil while you're cooking the next crepe, to prevent the crepes from drying around the edges. You should have 16-18 crepes, if you're using an 9-10 inch skillet.
Mix the softened cream cheese, granulated sugar, vanilla and lemon zest.
Melt the butter in a skillet on medium heat. Add the apples, brown sugar and lemon juice. Cook the apples on medium heat until the apples are softened, 5-10 minutes, depending on how thick or thin you cut the apples. Off the heat, add the vanilla.
Spread a thin layer of the cream cheese filling on each crepe.
Place the cooked apples and blueberries in the center of the crepe, and roll the crepe around the filling.
Drizzle some of the syrup over the crepes. If you want the syrup to be thicker, add ½ a teaspoon of cornstarch to the apple filling before cooking it.
Recipe by
Olga's Flavor Factory
at https://www.olgasflavorfactory.com/recipes/breakfast/apple-blueberry-crepes/