Almond Cookies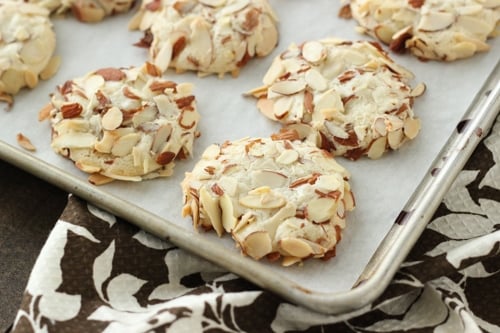 Author:
Olga's Flavor Factory
8 egg whites
2 lbs almond paste
1½ cups granulated sugar
1½ cups powdered sugar
1 cup flour
2-4 cups sliced almonds
Preheat the oven to 350 degrees. Line a rimmed baking sheet with parchment paper.
Separate the eggs; you will need only the egg whites for the cookies. In a large bowl, mix the egg whites, almond paste, sugars and flour until the mixture is evenly combined. You can use a standing mixer, a hand held mixer, a food processor or even mix it by hand. The cookie dough will be very sticky. Sometimes, I put it in the refrigerator to make it easier to handle, although it's not necessary at all.
Place the sliced almonds into a shallow bowl. Use an ice cream scoop or two spoons and drop about 1½ Tablespoons of cookie dough into the almonds and cover the cookie dough on all sides with the almonds. You can use as much or as little almonds as you like. The original recipe calls for 2 cups of almonds, but I used double that amount.
Place the cookies on the prepared baking sheet, about 1 inch apart and bake in the preheated oven for about 15-20 minutes. The cookies should turn golden brown around the edges and on the bottom, but will still be pale on top. Cool for 5 minutes before transferring the cookies to a cooling rack.