Spring Chicken and Vegetable Soup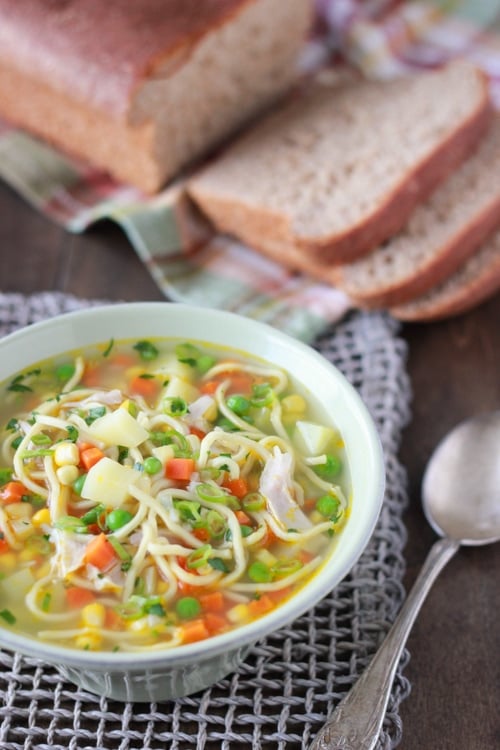 Author:
Olga's Flavor Factory
8-10 cups water
2 chicken drumsticks, skin removed
2 dry bay leaves
5 black peppercorns
2 potatoes, peeled and chopped
½ Tablespoon butter or oil
1 onion, chopped
2 garlic cloves, minced
2 carrots, peeled and diced
2 ears of corn, about 2 cups of corn kernels
2 cups fresh egg noodles
½ - ¾ cup fresh or frozen peas
Fresh minced herbs, such as parsley, dill, chives, green onion
salt, pepper
In a medium to large cooking pot, add the water, chicken drumsticks, dry bay leaves and peppercorns. Bring to a boil, reduce to a simmer. Season with salt. Cook the chicken at a simmer, covered, for about 30 minutes.
Strain the broth through a fine mesh sieve lined with a cheesecloth or paper towel. Pour the broth back into the pot. Discard the bay leaves and peppercorns. Take the meat off the bone when it's cool enough to handle and add it to the soup. Bring the broth to a boil, reduce to a simmer.
Add the potatoes to the broth. Cook the soup at a simmer, covered.
Meanwhile, in a skillet, heat the butter or oil. Add the onions. Season with salt and pepper and cook on medium heat for about 5 minutes, until the onions have softened.
Add the carrots, season with salt and pepper as well and cook for another 3-5 minutes, until the carrots have softened too. Add the garlic to the center of the skillet and cook for 30 seconds to 1 minute, just until the garlic is fragrant.
Add the vegetables to the soup. Continue cooking until the potatoes are cooked through, 15-20 minutes.
Add the corn and noodles to the soup and cook for another 3-5 minutes, depending on the type of noodles you are using.
Take the soup off the heat and add the peas and herbs.
Recipe by
Olga's Flavor Factory
at https://www.olgasflavorfactory.com/recipes/soups/spring-chicken-vegetable-soup/