Three Bean and Tomato Salad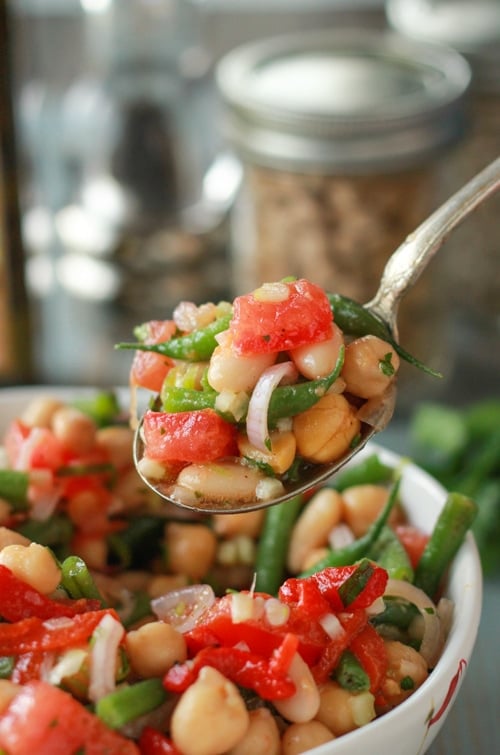 Author:
Olga's Flavor Factory
4 cups green beans, cut into 1 inch pieces
1 can (15 oz) chick peas (also called garbanzo beans)
1 can (15 oz) white navy beans (or northern beans)
3 tomatoes, seeded and chopped
1 shallot, sliced
1 garlic clove, minced
1 celery stalk, minced
¼ cup roasted red pepper, julienned
¼ cup olive oil or sunflower oil
1 Tablespoon sherry vinegar (red wine vinegar)
2 teaspoons sugar or honey
1 teaspoon dry mustard
salt, pepper
1 Tablespoon fresh parsley, minced
1 Tablespoon green onions, sliced
Cook the green beans in a pot of salted boiling water for about 5 minutes, until the beans are tender but still vibrantly green. Drain the beans and place them in a bowl full of ice water to cool off immediately.
Meanwhile, rinse the canned beans until the water runs clear.
Combine the beans, tomatoes, shallot, garlic, celery and roasted red pepper in a large bowl.
Whisk the olive oil, vinegar, sugar mustard until smooth. Add the dressing to the salad along with the fresh herbs. Season with salt and pepper. Mix gently to combine.
Store the salad in the refrigerator. The salad can be served cold or at room temperature. You can make the salad ahead of time and flavors will only get better as the salad has more time to marinate and the flavors all meld together.
Recipe by
Olga's Flavor Factory
at https://www.olgasflavorfactory.com/recipes/ontheside/salads/three-bean-tomato-salad/