Meatballs With Marinara Sauce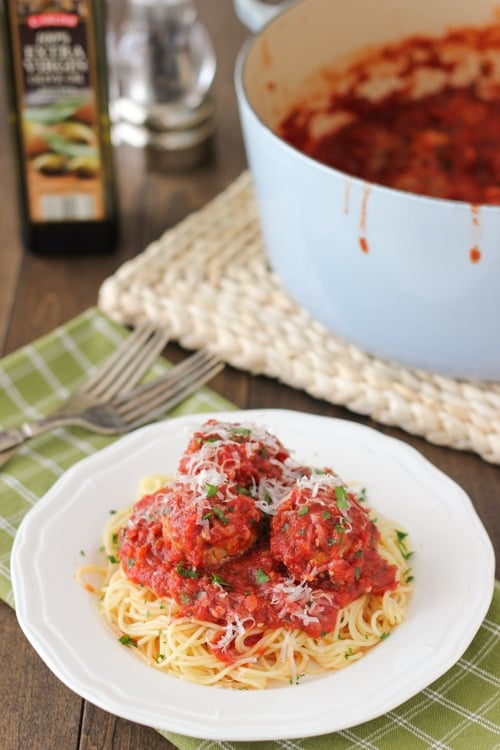 Author:
Olga's Flavor Factory
¾ lb ground beef
¾ lb ground pork
1 cup panko bread crumbs
¾ cup milk
1 egg
1 onion, minced
1½ teaspoons salt
½ teaspoon ground black pepper
2-3 Tablespoons olive oil
1 onion, minced
3-5 garlic cloves, minced
¼ teaspoon red pepper flakes
2 (28 oz) cans crushed tomatoes
salt, pepper (to taste)
1-2 Tablespoons fresh parsley, basil, chopped
Pour the milk over the breadcrumbs and set it aside for a few minutes for the milk to soak into the crumbs.
Combine the ground meat, minced onion, the breadcrumbs, milk, egg, salt and pepper. Mix until all the ingredients are well dispersed.
Form the meat mixture into 1 Tablespoon sized meatballs.
Heat about 1 Tablespoon of oil in a dutch oven or another heavy bottomed pot or a high rimmed skillet. Cook the meatballs in 2-3 batches, on medium heat, covered, about 2-3 minutes per side, until golden on both sides. Set the meatballs aside.
In the same dutch oven, remove all the excess oil, leaving about 1 Tablespoon behind. Add the minced onion, season with salt, and cook for about 5 minutes, until the onions are softened. Add the minced garlic and the red pepper flakes. Cook for another minute, until the garlic is fragrant.
Pour in the crushed tomatoes. Season with salt. Bring the sauce to a boil, reduce to a simmer and cook for about 15 minutes.
Add the fresh herbs to the sauce. Return the meatballs to the marinara sauce. Serve the meatballs with pasta or as a submarine sandwich. Garnish with more fresh herbs and freshly grated Parmesan cheese.
Use dampened hands when shaping your meatballs, it really helps for the meat mixture not to stick to your hands and also for the meatballs to be in a nice even shape, not jaggedy and rough.

You can use any ground meat that you like for the meatballs.
Recipe by
Olga's Flavor Factory
at https://www.olgasflavorfactory.com/recipes/main-course/juicy-meatballs-marinara-sauce/