Italian Wedding Soup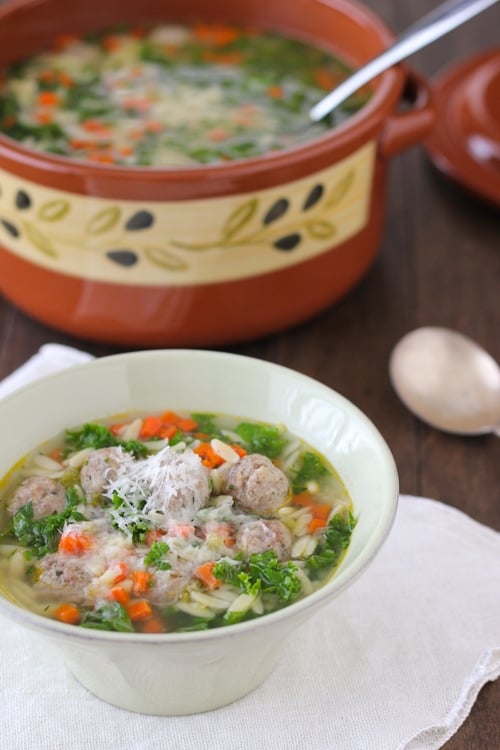 Author:
Olga's Flavor Factory
4 oz ground beef
4 oz ground pork
½ onion, finely grated
⅓ cup panko bread crumbs
¼ cup milk
¼ cup Parmesan cheese, finely grated
½ Tablespoon fresh parsley, minced
⅓ - ½ teaspoon salt
¼ teaspoon ground black pepper
1 Tablespoon olive oil
1 onion, chopped
2-3 carrots, chopped
1 celery stalk, chopped
2 garlic cloves, minced
8-10 cups chicken broth
½ cup white wine
⅓ cup small pasta (orzo, ditalini, etc)
4 cups kale, chopped
¼ - ½ cup Parmesan cheese
1-2 Tablespoons fresh parsley, minced
salt, pepper
To make the meatballs, mix all the ingredients in a small or medium bowl. (Let the bread crumbs soak in the milk for about 5 minutes first.)
With dampened hands, shape them into small meatballs, about ½ Tablespoon each. You should have 30-35 meatballs.
Prep the rest of the ingredients.
In a medium pot or a dutch oven, heat up the oil on medium-high heat. Add the onions, season with salt and pepper and cook for about 5 minutes, until the onions are tender. Add the carrots, celery and garlic. Season with salt and pepper. Cook for another 5 minutes or so. Pour in the chicken broth and the white wine. Bring the soup to a boil and then reduce to a simmer. Add the pasta and the meatballs. Cook for about 5 minutes, until the pasta and the meatballs are almost cooked through. Add the kale. Cook for another 3-5 minutes. Garnish the soup with fresh parsley and Parmesan cheese.