Kale Salad With Roasted Beets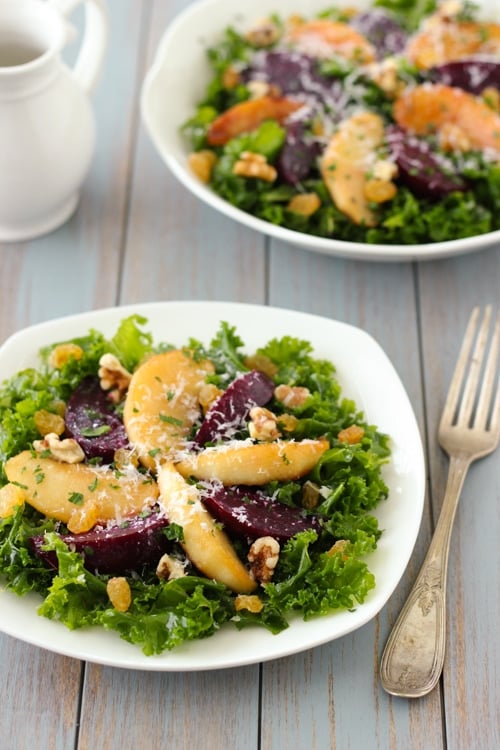 Author:
Olga's Flavor Factory
3½ Tablespoons olive oil
1-2 apples (any kind of apple)
½ - 1 Tablespoon honey
6-7 cups kale
2 tablespoons lemon juice
2-3 small beets
1 teaspoon fresh parsley, minced
¼ cup toasted walnuts
¼ cup golden raisins (or craisins)
Romano or Parmesan cheese (goat cheese or blue cheese would be great in this salad too)
4 Tablespoons olive oil
1-2 teaspoons red wine vinegar
1 Tablespoon lemon juice
1 garlic cloves, smashed
1-2 teaspoons dijon mustard
1 - 2 teaspoons honey
½ Tablespoon fresh parsley, minced
Read this post to find out How To Roast Beets. I would recommend roasting the beets ahead of time. The beets need to be cold for this recipe.
Peel the apple and cut it into slices. Heat 1 Tablespoon of olive oil in a skillet on medium heat. Add the apple with the honey and cook it for about 5 minutes, until the apple slices are tender and slightly caramelized. (You can also use brown sugar instead of honey.) Set the apples aside until they cool completely.
Another great addition would be a splash of apple cider. Add the liquid to the vinaigrette later.
Massage the kale for at least 5 minutes with 2 Tablespoons olive oil, 1 Tablespoon lemon juice and season with salt. The kale will become much more tender and soft and will decrease in volume significantly.
Peel the beets and cut them into slices. Season the beets with ½ Tablespoon of olive oil, ½ Tablespoon lemon juice, salt, pepper and parsley.
Mix all the ingredients together for the vinaigrette.
Layer the kale on the bottom of the plate and arrange the beets and the apples on top of the kale. Drizzle some of the vinaigrette over the salad, discarding the garlic. Garnish the salad with raisins, walnuts and Parmesan or Romano cheese.
You can also add some goat cheese or blue cheese to the salad, it's absolutely divine with beets and apples.
Recipe by
Olga's Flavor Factory
at https://www.olgasflavorfactory.com/recipes/ontheside/salads/kale-salad/