Tuna Nicoise Sandwich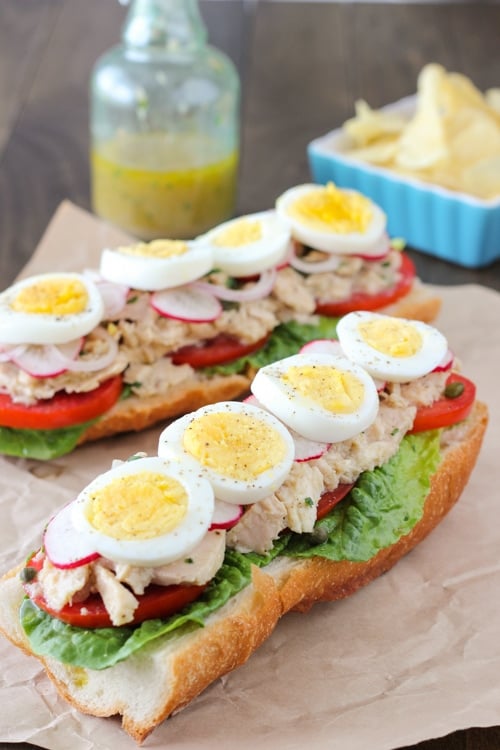 Author:
Olga's Flavor Factory
1 big can (12 0z) Canned Tuna
½ very small shallot, sliced
1-2 tomatoes, sliced
2-3 hard boiled eggs, sliced
1 Tablespoon capers
4-6 Romaine or Bibb lettuce leaves
2-3 radishes, sliced
Bread (Italian baguette)
⅓ cup olive oil
juice of 1 lemon
4-6 Tablespoons red wine vinegar
½ very small shallot, minced
1 very small garlic clove, minced
½ Tablespoon dijon mustard
1 anchovy fillet, minced
1 Tablespoon fresh parsley, minced
Whisk all the ingredients for the vinaigrette together.
Drizzle part of the vinaigrette over the baguette.
Gently mix the canned tuna with a few Tablespoons of the vinaigrette. (You can use tuna that is packed in oil or in water.)
Place some romaine lettuce (or bibb lettuce, spring greens, spinach or any other kind of lettuce that you like) on top of the baguette.
Place the tomato slices on top of the lettuce, season them with salt and pepper and drizzle with a few teaspoons of the vinaigrette.
Place the tuna on top go the tomato slices.
Add the carpers and radish slices on top of the tuna. You can also add some thin slices of shallot or red onion.
Top the sandwich with slices of hard boiled egg. Season with salt and pepper.
Serve immediately.