Belorussian Potato and Cheese "Souffle" Babka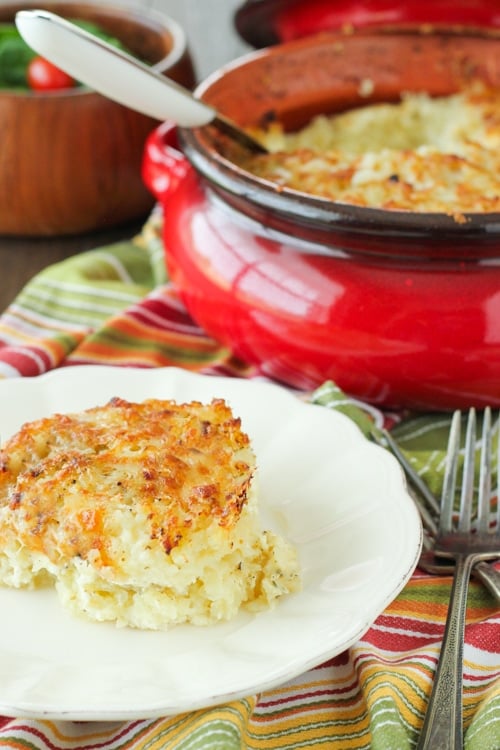 Author:
Olga's Flavor Factory
2½ lbs potatoes
1½ Tablespoon butter or oil, divided
1 large onion, minced
2-3 garlic cloves, minced
12-16 oz farmer's cheese or ricotta(depending on how much cheese you like)
1 whole egg and 3 egg yolks
1 cup Parmesan cheese, finely grated (divided)
½ cup Mozzarella cheese, finely grated, optional
1½ cups half n half
salt, pepper
dry herbs, optional
Cook the potatoes in their skin, either in water or bake them in the oven.
When the potatoes are cool enough to handle, peel them and grate them on the large holes of a box grater.
Meanwhile, melt ½ Tablespoon butter or oil in a skillet. Add the onions and garlic. Season with salt and pepper and cook for about 5 minutes, until the onions are tender.
In a bowl, mix the farmer's cheese with ⅔ cup of the Parmesan cheese, the whole egg and mix to combine. Season with salt and pepper. You can also add some grated Mozzarella cheese, or any other cheese that melts well.
Whisk the egg yolks and the half n half together, also seasoning with salt and pepper.
Layer ⅓ of the potatoes into the bottom of the prepared baking dish. Sprinkle it with salt, ground black pepper and dry herbs (if you're using them). I really like this dry herb mixture. Sprinkle ⅓ of the onion and garlic mixture on top of the potatoes, followed with half of the cheese mixture. Repeat with another layer of potatoes, onion and garlic, then the second half of the cheese mixture and top it off with another layer or potatoes, onions and garlic, seasoning each layer of potatoes. Pour the half and half and yolks over the whole dish and sprinkle the top with the remaining cheese.
Bake, covered, in the preheated oven for 35-45 minutes. Uncover and bake for another 5-10 minutes, until the cheese is golden brown.
Recipe by
Olga's Flavor Factory
at https://www.olgasflavorfactory.com/recipes/ontheside/side-dishes/belorussian-potato-cheese-souffle-babka/