Chocolate Sour Cream Bundt Cake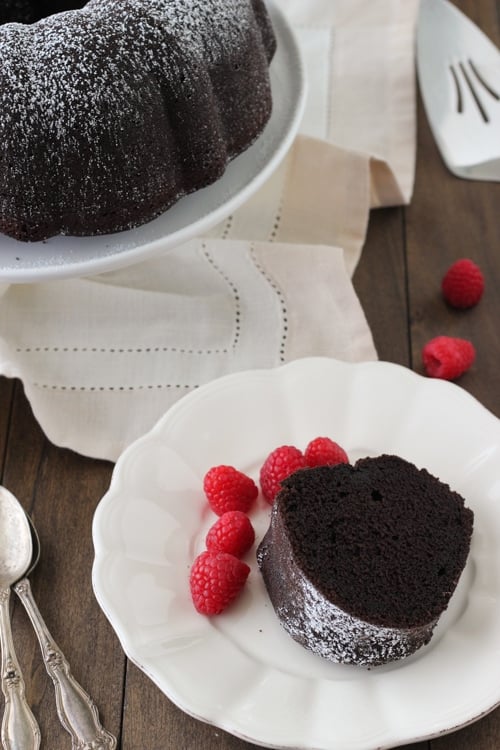 Author:
Olga's Flavor Factory
¾ cup cocoa powder
6 oz semisweet or bittersweet chocolate, chopped
1 teaspoon instant espresso or instant coffee powder
¾ cups boiling water
1 cup sour cream
1 teaspoon vanilla
1 teaspoon coffee and rum liqueur, optional
1¾ cups all purpose flour
1 teaspoon salt
1 teaspoon baking soda
12 Tablespoons butter, softened (1½ sticks)
2 cups brown sugar
5 eggs, room temperature
Preheat the oven to 350 degrees. Spray a bundt cake pan with oil or brush it with melted butter and sprinkle with flour.
In a medium heatproof bowl, combine the chopped chocolate, cocoa powder and espresso powder. Pour in the boiling water and whisk it all together until all the chocolate is melted. Set is aside to cool off slightly, about 5 minutes.
Meanwhile, in a medium bowl, combine the flour, salt and baking soda together.
Add the sour cream, vanilla and liqueur to the chocolate mixture. You can use any liqueur you like, or omit it, it's up to you.
In a large bowl of a standing mixer with a paddle attachment or using a hand mixer, beat the butter and brown sugar until they are fluffy, about 5 minutes.
Add the eggs, one at a time.
Add ⅓ of the flour mixture to the butter, mix it in slightly, then add half of the chocolate mixture, mixing slightly again. Add half of the remaining flour, mix again, followed by the second half of the chocolate mixture and then lastly with the remaining dry ingredients. Using this method to mix the batter really helps to not over mix it, creating a really tender and delicate texture of the cake.
Pour the batter into the prepared bundt cake pan. Bake in the preheated oven for 40-50 minutes, until a toothpick inserted into the center comes out clean.
Cool the bundt cake for 5 minutes before inverting it onto a cooling rack. Cool for another 10-15 minutes and then dust it with powdered sugar.
This cake is delicious served with ice cream, or whipped cream and berries.
Recipe by
Olga's Flavor Factory
at https://www.olgasflavorfactory.com/recipes/sweets/chocolate-sour-cream-bundt-cake/