Vegetarian Borsch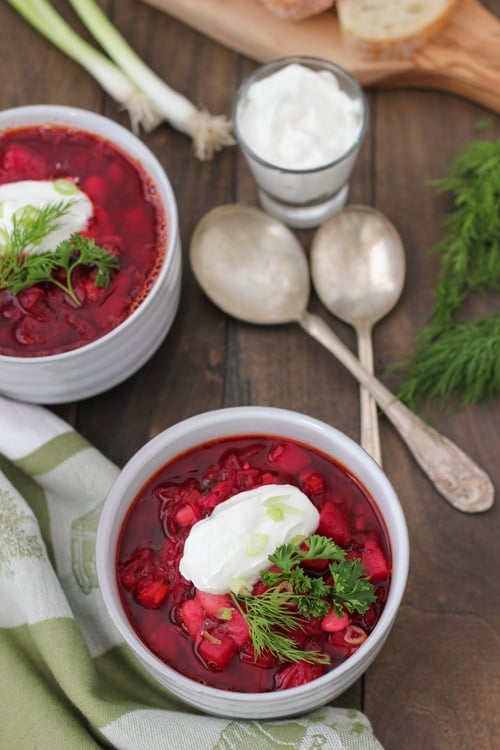 Author:
Olga's Flavor Factory
1 cup dry beans, brined overnight in 4 cups water and ¾ teaspoons table salt, or 1 (14.5 oz.) can of beans
12 cups water
2 dry bay leaves
3-5 black peppercorns
3 potatoes, peeled and chopped
½ cabbage, thinly sliced
1 Tablespoon oil or butter
1 onion, chopped
1 carrot, peeled and grated
1 celery stalk, sliced
2 medium roasted beets (or canned beets, 2 (14.5 oz) cans), peeled and grated or sliced into matchsticks
2 tomatoes, seeded and chopped
2-3 garlic cloves, minced
1-2 teaspoons vinegar or lemon juice
1 bunch beet greens, chopped
salt, pepper
fresh herbs - parsley, green onions, dill
sour cream, to garnish
I like to brine the beans the night before I am planning to make the Borsch. You can also use canned beans, if you prefer. In that case, you would add the beans at the very end of cooking.
Drain the beans from the brining liquid and put them into a large pot pot with the 12 cups of water. Bring it to a boil, reduce to a simmer and cook the beans for about 20 minutes.
Meanwhile, prep the rest of your ingredients.
After the beans have cooked for 20 minutes, add the potatoes and the cabbage to the soup. Add the dry bay leaf, peppercorns and season with salt.
In a skillet, melt the butter or oil, add the onions, season with salt and pepper and cook on medium heat for about 5 minutes, until the onions are translucent and softened. Add the carrots and celery, season with salt and pepper and cook for another 3-5 minutes, until they are tender as well. Add the vegetables to the soup.
Using the same skillet, add the beets, tomatoes, garlic, vinegar (or lemon juice) and season with salt and pepper. Cook for about 5-7 minutes. Add the beets to the soup along with the beet greens.
Add the fresh herbs to the Borsch and serve with sour cream.