Marinated Assorted Vegetable Salad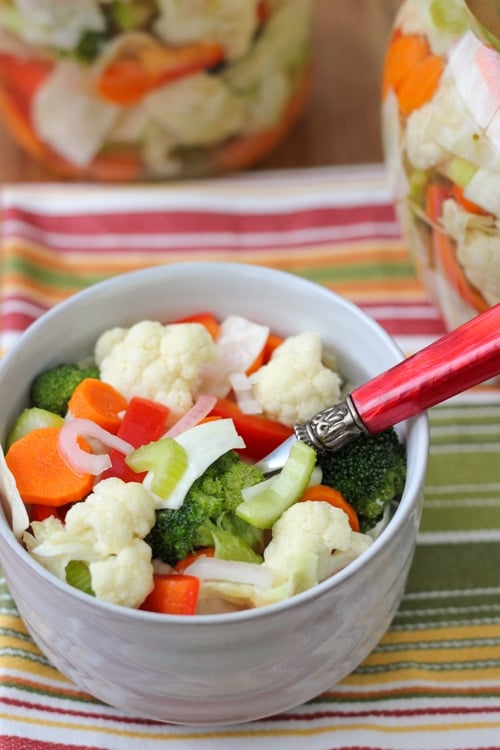 Author:
Olga's Flavor Factory
½ of a cabbage head, chopped into 1 inch pieces
½ cauliflower head, cut into florets
2 broccoli stalks, cut into florets
3 carrots, peeled and sliced
2 celery stalks, sliced
1-2 bell peppers, cut into 1 inch pieces
1 small onion or 1 large shallot, sliced
3-5 garlic cloves, peeled
5 cups water
4½ Tablespoons kosher salt
1 Tablespoon sugar
¾ cup distilled white vinegar
¾ - 1 cup sunflower oil
Prep all the ingredients.
Mix to combine in a large bowl or pot.
Make the brine by brining the water to a boil, and adding the salt and sugar, mixing to combine until they dissolve and then off the heat adding the vinegar and the oil.
Pour the brine over the vegetables and let it stand for about 15-20 minutes. The vegetables will wilt slightly. Place the salad into glass canning jars or even into a large bowl or bowls. Make sure that the vegetables are covered completely with the brine.
Store in the refrigerator. Marinate for 24-48 hours before serving.
Recipe by
Olga's Flavor Factory
at https://www.olgasflavorfactory.com/recipes/appetizers/marinated-assorted-vegetable-salad/