Slow Cooker BBQ Pulled Chicken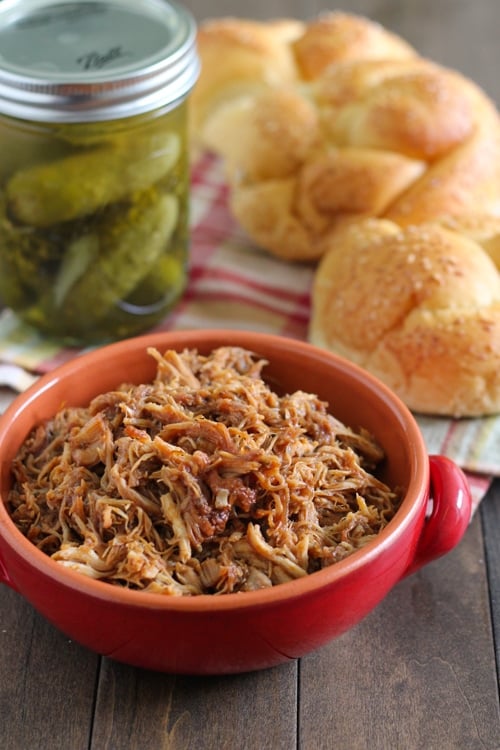 Author:
Olga's Flavor Factory
2 lbs, boneless, skinless chicken thighs
1¾ - 2 cups barbecue sauce
2 teaspoon poultry seasoning
1 teaspoon Old Bay seasoning
½ teaspoon Paprika (I used smoked paprika)
¼ teaspoon Chipotle chili pepper (or cayenne pepper)
½ - 1 teaspoon chili powder
½ - ¾ teaspoon salt
¼ teaspoon ground black pepper
1 teaspoon garlic powder
1 teaspoon onion powder
Trim the chicken thighs from any extra fat. You can use chicken breast, but I would be very careful not to overcook it, since it can dry out very easily. You can't overcook chicken thighs, so it's the best option for this dish.
Combine all the seasonings in a small bowl and mix. You can omit any of the spices or even add other spices that you like. This is a matter of taste, just make sure that the chicken is seasoned, at least with salt and pepper. Sprinkle the seasoning over the chicken and make sure it's all coated.
Pour ½ cup of barbecue sauce into the bottom of the slow cooker, place the chicken on top and pour another ½ cup of barbecue sauce on top of the chicken.
Spread out the barbecue sauce over the chicken. Cook on low for 5 hours. The chicken will be very tender and falling apart at this point.
Take the chicken out of the cooking liquid. Shred the chicken into pieces with a fork.
Heat up the remaining barbecue sauce and add it to the chicken. You can add a bit of the cooking liquid to the chicken to make it even juicier. You can add as much or as little sauce as you like. Serve the chicken with mashed potatoes, rice or pasta.
Toast some kaiser rolls; I usually use my oven.
Place the pulled chicken on top of the roll, place some shredded cheese of your choice on top of the chicken and broil for just a few minutes, until the cheese melts.
Serve the sandwich with your choice of toppings. I used pickles, but you can also use roasted red peppers, sautéed mushrooms and caramelized onions, coleslaw, lettuce or sautéed peppers.
Recipe by
Olga's Flavor Factory
at https://www.olgasflavorfactory.com/recipes/main-course/poultry/slow-cooker-bbq-pulled-chicken/