Cheese Tortellini With a Creamy Tomato and Spinach Sauce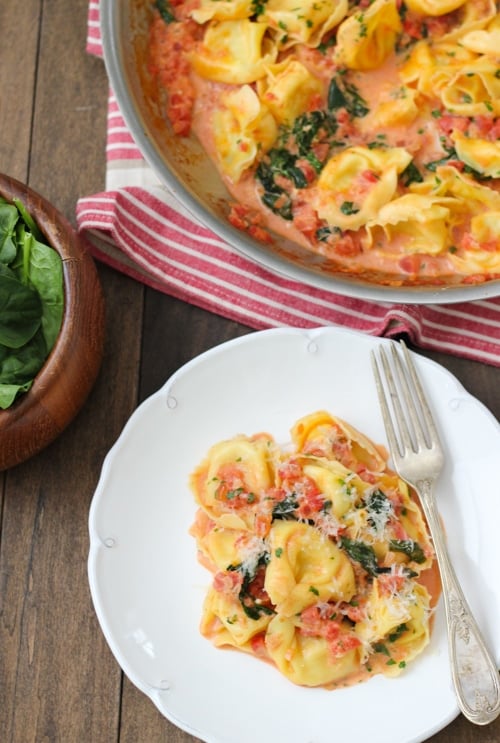 Author:
Olga's Flavor Factory
12 oz. tortellini (you can use any kind, I used cheese)
1 Tablespoon extra virgin olive oil
1 onion, chopped
2 garlic cloves, minced
¼-1/2 cup vodka, optional
14.5 oz canned diced tomatoes, with the juice (you can use half of another can, if you like to have more sauce)
2 - 2½ cups baby spinach, packed
⅓ cup heavy cream
½ cup Parmesan cheese, finely grated
fresh herbs, parsley, basil, oregano, thyme, etc.
salt, pepper
Bring a large pot of water to a boil.
While you are waiting for the water to boil, heat the extra virgin olive oil in a large skillet on medium high heat. Add the onion, season with salt and pepper and cook for about 5 minutes, until the onions are tender and slightly golden.
Add the garlic to the center of the pan, and cook for another 30 seconds or so. If you want the sauce to have a bit of heat, add some red pepper flakes at this point too.
Deglaze the skillet with the vodka, scraping to get all the brown bits off the bottom of the skillet. If you would prefer not to use the vodka, simply omit it from the recipe. You do not need to substitute anything for it. Cook on high heat until the vodka has reduced and there is barely any of the liquid left in the skillet.
Add the tomatoes to the skillet, season with salt and pepper, reduce the heat to low and cook for about 5-7 minutes.
Add the spinach to the skillet, increase the heat to medium high and cook for 1-2 minutes, just until the spinach starts to wilt.
Pour in the heavy cream and add most of the Parmesan cheese, reserving a small portion to garnish the plates with. Stir to combine and turn off the heat.
Meanwhile, when the water boils, add the tortellini and cook for 2 minutes only. Drain the tortellini from the water and add the pasta to the sauce.
Serve the tortellini and sauce with fresh herbs and more Parmesan cheese.
Recipe by
Olga's Flavor Factory
at https://www.olgasflavorfactory.com/recipes/main-course/cheese-tortellini-creamy-tomato-spinach-sauce/