Yellow Rice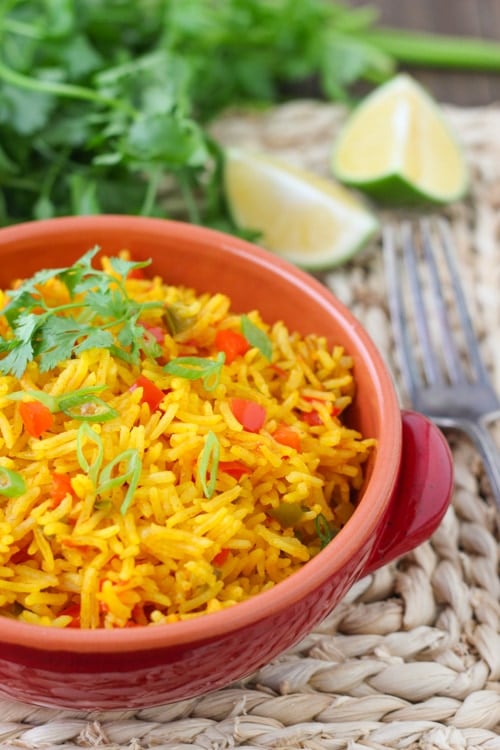 Author:
Olga's Flavor Factory
1 Tablespoon olive oil
1 onion, chopped
1 small red bell pepper, chopped
¼ green bell pepper, chopped
1 jalapeño, chopped
2 tomatoes, seeded and chopped
2-3 garlic cloves, minced
1 Tablespoon tomato paste
1 dry bay leaf
½ - 1 teaspoon ground turmeric
2 cups long grain white rice
3 cups chicken broth, boiling
salt, pepper to taste
fresh scallions, cilantro
While you are sautéing all the vegetables, bring the chicken broth to a boil in a small saucepan and keep it hot and ready to be added to the rice.
In a large skillet or a medium pot, heat the olive oil on medium high heat. Add the onion, season with salt and pepper and cook for 3-5 minutes, until it is tender and translucent.
Add the chopped peppers, season with salt and pepper and cook for another 2-3 minutes. For the jalapeño, I like to charr it in the oven first, peel off the skin, remove the seeds and then finely chop it. You can simply chop up the jalapeño without charring it first. Also, you can use as much or as little of the green and red peppers as you like. I usually use one small bell pepper and only ¼-1/2 of a green pepper.
Add the chopped tomatoes and garlic to the skillet and cook for 2-3 more minutes.
Add the tomato paste and the turmeric. The turmeric is what will give the rice it's gorgeous yellow color, so don't omit it, or you will not have yellow rice, you will have regular rice pilaf with vegetables. Mix to combine and cook for about a minute.
Add the rice to the skillet, increase the heat to high and cook the rice for about 2 minutes, making sure to mix the the whole time and get it coated and throughly mixed with all the other ingredients in the skillet.
Add the dry bay leaf to the skillet. Pour in the boiling chicken broth, the rice should come to a boil right away. Decrease the heat to low, and cook, covered, for 15 minutes.
Fluff the rice with a fork, discard the bay leaf and garnish the rice with fresh herbs.