Whole Roasted Striped Bass With Tomatoes and Herbs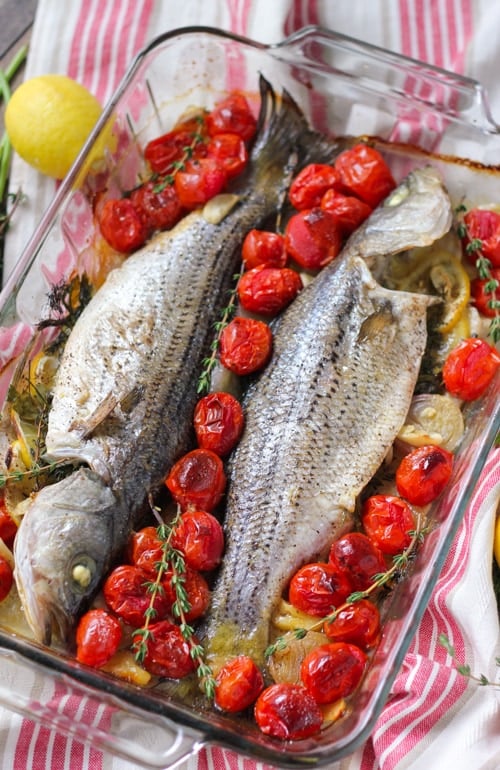 Author:
Olga's Flavor Factory
2 whole striped bass (12-14 oz each), scaled and gutted
1 bunch each, fresh parsley, dill and thyme (you can also use oregano and basil)
1 lemon, sliced
3-4 shallots, sliced
3-5 garlic cloves, sliced
12 oz cherry tomatoes
¼ - ⅓ cup olive oil
salt, pepper
Preheat the oven to 450 degrees Fahrenheit.
Place the 2 whole fish into a 13 x 9 inch rimmed baking dish. Season the fish with salt and pepper on both sides and in the cavity of the fish as well. Place some of all the herbs and the lemon slices into the cavity of the fish.
Place the sliced shallots around the fish on the bottom of the baking dish. Place the tomatoes all around the fish as well, on top of the shallots. Nestle the garlic slices and the thyme all around the tomatoes. Season the shallots and tomatoes with salt and pepper.
Drizzle the olive oil over the tomatoes and the fish.
Roast the fish in the preheated oven for 30-40 minutes, depending on the size of the fish. The fish should be golden in some areas and the tomatoes should be golden and some of them will blister and be almost black.
Serve with more fresh herbs, along with the tomatoes, shallots and garlic, discarding the herbs and lemon slices from the cavity of the fish.
Recipe by
Olga's Flavor Factory
at https://www.olgasflavorfactory.com/recipes/main-course/whole-roasted-striped-bass-tomatoes-herbs/