Creamy Butternut Squash Soup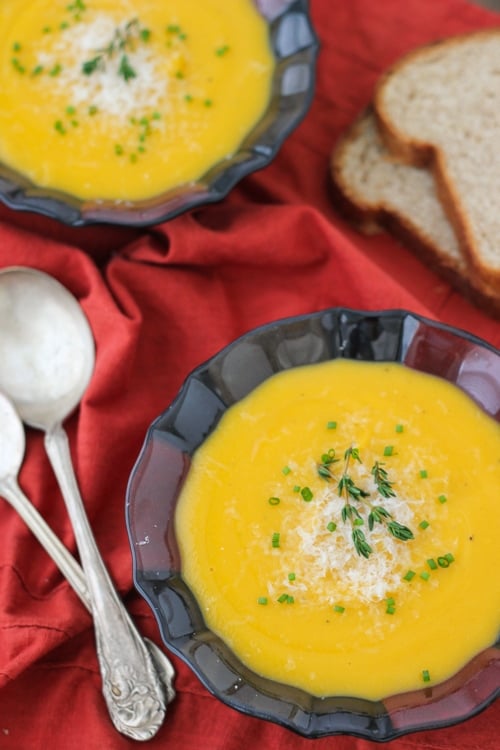 Author:
Olga's Flavor Factory
1 medium butternut squash (3-4 lbs), peeled, seeded and chopped into 1½ inch pieces
¼ cup olive oil, for roasting
1 Tablespoon butter or oil, for sautéing
3 shallots, minced
2 garlic cloves, minced
1 carrot, peeled and grated
1-2 Rusett potatoes, peeled and chopped into 1 inch pieces
3-5 sprigs of thyme
4-5 cups chicken or vegetable broth
¼-1/2 cup heavy cream
salt and ground black pepper, to taste
Parmesan cheese, finely grated, to garnish, optional
fresh thyme, parsley or chives, to garnish, optional
Prep all the ingredients.
Preheat the oven to 450 degrees Fahrenheit.
Toss the prepped butternut squash with the ¼ cup olive oil (I used a little bit less) and season with salt and pepper. It really doesn't matter what size you chop the butternut squash into, but the smaller you cut it, the faster it will roast. Spread out the butternut squash evenly into a large rimmed baking sheet.
Roast the butternut squash in the preheated oven for 30-35 minutes. If you chop the butternut squash into bigger pieces, you will need to roast it longer. The butternut squash should be fork tender and golden and slightly charred in some places.
Meanwhile, melt the butter in a large heavy bottomed pot or dutch oven. Add the shallots and garlic. Cook for about 3 minutes, on medium high heat, just until the shallots are tender. You can use onion instead of shallots, but I prefer shallots. They have a much more mild taste, which is perfect in this light soup.
Add the carrots to the pot, season with salt and pepper and cook for another 3 minutes.
Add the potatoes, thyme and chicken broth to the soup. I usually add only 4 cups of broth to the soup and after it is done cooking and is pureed, I see if it needs more broth. Adjust the thickness of the broth to your liking.
As soon as the butternut squash is ready, add it to the soup as well.
Bring the soup to a boil, reduce to a simmer, and cook, covered, for an additional 15-20 minutes, just until the potatoes are tender.
Discard the thyme sprigs.
Transfer half of the soup to the blender and puree. Pour the pureed soup into a medium bowl and puree the remaining half of the soup.
Pour all of the soup back into the pot that it was cooking in.
Add the heavy cream, as much or as little as you prefer.
Taste the soup and adjust the seasoning, if it needs it. Garnish the soup with finely grated Parmesan cheese and fresh herbs. Other garnishes that you might like to consider are homemade croutons, or roasted pumpkin seeds.
Recipe by
Olga's Flavor Factory
at https://www.olgasflavorfactory.com/recipes/soups/creamy-butternut-squash-soup/