Almond Pear Tart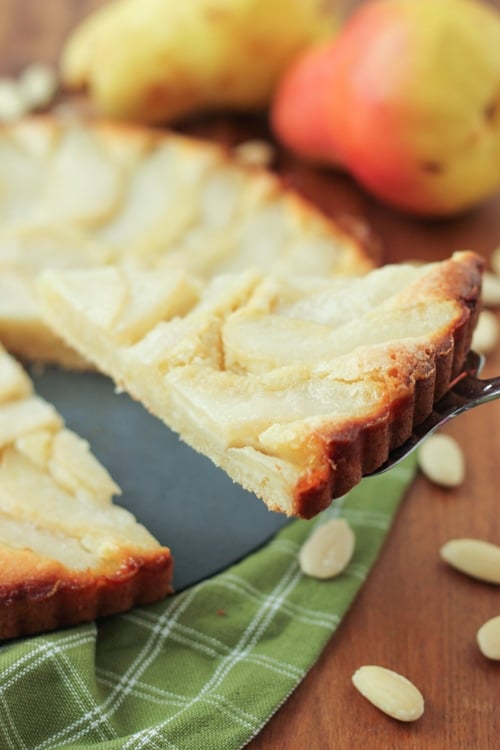 Author:
Olga's Flavor Factory
1¼ cups blanched almonds
½ cup sugar plus ½ - 1 Tablespoon to sprinkle on top of the of the tart
⅓ cup all purpose flour
¼ teaspoon salt
4 Tablespoons butter, melted, plus 1 Tablespoon butter chilled and cut into small cubes
2 eggs
¼ cup milk
½ teaspoon vanilla extract
2-3 pears, peeled, cored and cut into thin slices
Preheat the oven to 350 degrees Fahrenheit.
Blanched almonds are almonds that have their skin removed. You can buy them already blanched or do it yourself, by covering the almonds with boiling water for one minute, draining the water, rinsing and the skin will rub off as you dry them.
Blend the blanched almonds and ½ cup of sugar in the food processor until the almonds are finely ground. Add the flour and salt and pulse a few times to combine.
Add the eggs, melted 4 Tablespoons butter, milk and vanilla. Mix just until the batter is uniformly combined.
Pour the batter into a 9 inch tart pan. Arrange the pear slices on top of the tart in whatever design you like. Sprinkle with the remaining ½-1 Tablespoon sugar and the remaining 1 Tablespoon butter that is chilled and cut into small cubes.
Bake in the preheated oven for 40-45 minutes, until the edges are golden brown.